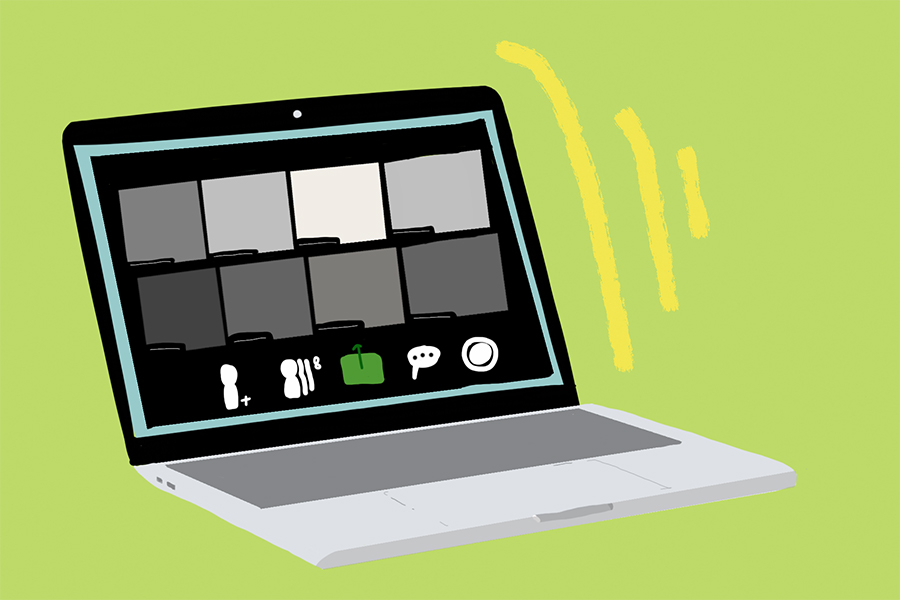 Video calling apps allow students to digitally maintain friendships
Stuck at home, students have turned to software like Zoom and FaceTime to spend time with their friends
April 18, 2020
For many students, Zoom was first introduced as the school's chosen application for online classes. Now, it's being used, in addition to FaceTime, as a way for students to maintain personal connections while under quarantine. 
Senior Ashley Grega values her ability to communicate with friends; she uses Zoom for virtual group hangouts and FaceTime for talking to a single friend.
"[They] help me to still keep a face-to-face conversation and be semi-normal since we can't do in person," Grega said. "Also, over video chats, we can still do normal things like we used to like eat ice cream together, watch TV, play games or even eat [meals] together."
For Grega, not having these applications would be "mentally draining" because seeing her friends' faces, in addition to their voices, makes their communication more real. However, she has also made the effort to think outside of the box in how she communicates.
"
Over video chats, we can still do normal things like we used to like eat ice cream together, watch TV, play games or even eat [meals] together."
— senior Ashley Grega
"I have been writing letters because sometimes you want to spice things up and do something different to keep in touch," Grega said. "Plus, it's so exciting to get a letter in the mail from someone."
For freshman Brianna Coup, face-to-face interaction is important even beyond communication – she's been able to make workouts out home more enjoyable by doing them along with her friends via Zoom.
Having this interaction with friends makes being home 24/7 more bearable for Coup, who believes that communication is necessary for getting through the stay-at-home order.
"Without communication, life would be super boring and I would have nothing to do," Coup said. "Being inside is already driving everyone crazy and without being able to at least communicate with their friends, people [would] start to violate the lockdown."
The school's debaters have also utilized Zoom to not only maintain their relationship as a team but actively continue practice and competition. For freshman Sarah Johnston, participating in weekly practice debates via Zoom has been a fun way to strengthen the bond between team members.
"Participating in online practice debates with our debate team has been a really fun and unique experience. It allows our team to still feel connected despite quarantine and get our practice in, which is necessary for growth," Johnston said. "Having a wide array of technological options to communicate with each other keeps the whole team aspect strong."
The team is even maintaining a presence in the debate community by partaking in online tournaments. Johnston and junior Adam White competed in the Georgetown Spring International Tournament, an online competition that hosted competitors from all around the world.
"It was a blast, but the best part was that we were able to strengthen our debate skills right from our homes," Johnston said. "Using Zoom has allowed us to still communicate with one another while also participating in activities that bring a sense of normalcy to the whole situation."
(Visited 1 times, 1 visits today)