Varsity wins second to last game of regular season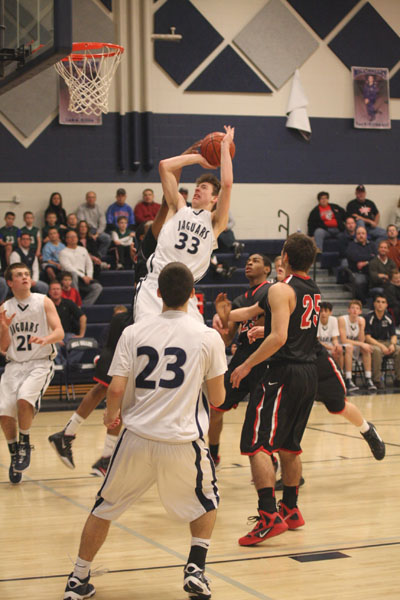 The Jaguars took the court for the second to last game of the regular season against Lansing High School on Tuesday, Feb. 21.
Lansing got the tip off and made a three pointer to begin the game. Play continued with three pointers from both teams, and the first quarter ended with a score of 14-13, Jaguars.
Second quarter began with a two-point shot by junior forward Brett Hamilton. Junior forward Nathan Stacy then made a lay up and the ball became Lansing's possession. Junior guard Jake Theis stole the ball from Lansing and scored, causing the Lion's to call a time out, with a score of 20-13, Jags.
Theis thinks that forcing a team into timeout is the best way to know that your team is accomplishing a goal.
"Defense wins games," Theis said. "Lansing being our best defensive game of the year, we knew we were doing what we should when they kept calling time outs."
Towards the end of second quarter, sophomore guard Drew Boatwright jammed his finger and was forced off the court due to his injury. Freshman forward Patrick Muldoon took his place and immediately rebounded the Jaguars missed free throw and scored. First half finished with a score of 37-26, Jaguars.
Theis viewed the end of the first half as being well played and physical.
"When we're playing good, we can beat anyone," Theis said. "And we were showing that we were on our way to doing so at the end of the half."
Second half started with Lansing in possession. Lansing turned the ball over to the Jaguars, but Stacy missed a three-point opportunity. Stacy rebounded his own missed shot and was fouled, then made two for two free throws.
Junior guard Kyle Kain made a three pointer, Lansing received possession, Jaguars stole, then sophomore guard Nick Friesner turned the ball over. Kain fouled Lansing, which allowed them to shoot. With 3:03 left in the quarter, the score was 42-32, Jags.
To finish the quarter, Stacy had an assist to Kain who scored a layup. After Lansing tried for a three, Muldoon rebounded and passed to Kain who scored a three pointer. The Jaguars were fouled and Boatwright shot two for two free throws. During a Jaguar possession, Lansing stole and scored. With 6.5 seconds left in the quarter, Hamilton was fouled and made both free throws. Lansing scored at the buzzer and third quarter ended with a score of 51-38, Jaguars.
The fourth quarter began with Stacy being fouled and making one of two free throws. Lansing pushed their defense, causing steals from the Jaguars. After some scrambling for the ball and a few attempted shots by the Jaguars, a foul was called for Stacy and he shot two for two free throws.
To end the game, countless fouls were called, causing both teams to travel from line to line shooting. During the Jags possession with 10 seconds left, the ball was held onto and the team walked off the court. The game ended with a score of 77-62, Jaguars.
(Visited 11 times, 1 visits today)
About the Writer
Alana Flinn, JagWire editor-in-chief
Alana Flinn is a third year staffer who is looking forward to a year full of new experiences. As editor-in-chief, Flinn hopes to finally win a Pacemaker for Mill Valley News while maintaining the quality of JagWire. She will also continue to report on her favorite sport, football. Flinn's favorite quote is: "Every person you meet, every single one, is looking for their story. There are no exceptions. You become part of it by how you treat them." -Anonymous