Varsity girls tennis places second in triangular
Girls tennis plays against Bonner Springs and Lansing in triangular
More girls tennis coverage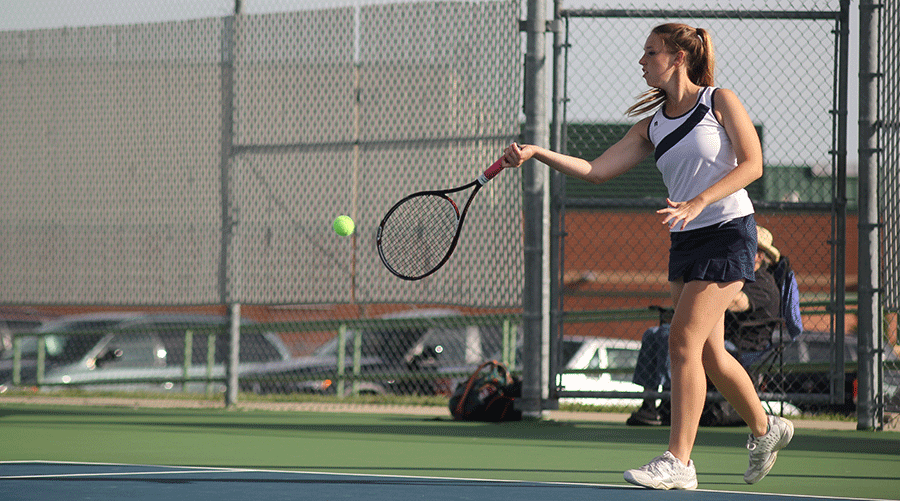 The varsity girls tennis team placed second in its triangular on Monday, Oct. 6 against Bonner Springs and Lansing at Mill Valley. The team went 2-2 in singles and 1-3 in doubles.
Senior Myesha Kennedy lost 2-8 against Lansing in doubles with senior Courtney Bohnert, but came back to win against Bonner Springs 8-2.
"We didn't have as much energy as we probably should have [in the first game]. Our second game against Bonner went well. We worked really well together and ended up pulling it off," Kennedy said.
Also in doubles with senior Taylor Felshaw, senior Mikaela McCabe lost both matches, 6-8 and felt her performance was a little off.
"Usually we play a lot better than how we played last night but for some reason we were kind of stressed out," McCabe said. "We didn't play poorly by any means, both matches were really close, but for some reason we couldn't pull it out."
Kennedy is looking forward to working with her doubles partner in order to prepare for the upcoming regionals.
"We are really looking to make sure that we are working well together because as doubles you have to know how the other person plays," Kennedy said.
McCabe believes the next match against Blue Valley Southwest will be important in deciding how regionals will go.
"It would be really awesome to win the match against Blue Valley South West," McCabe said. "They are in our region, so if we beat them, we are already seated above them, which would be awesome."
(Visited 26 times, 1 visits today)