Varsity boys win first game of season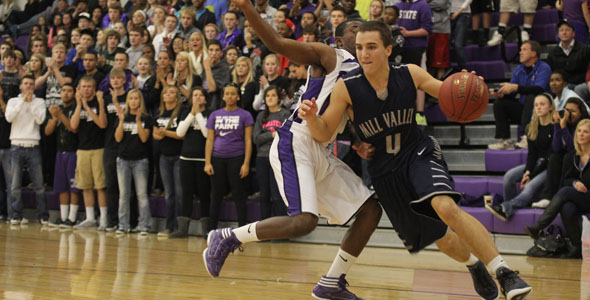 The Jaguars brought home a win at their first game of the season over the Piper High School Pirates on Friday, Nov. 30 with a 59-56 victory.
The first quarter began with the Jaguars leading 12-2 within the first five minutes of play.
The second quarter maintained scoring equilibrium between the Jaguars and Pirates, with the teams sitting at a one-point difference for most of the second quarter. The first half came to a close as senior forward Brett Hamilton made a layup, putting the score at 29-28, Jaguars.
"The first half was not executed very well," sophomore forward Patrick Muldoon said. "Coach stressed that we couldn't let [Piper] drive inside and we really needed to be stronger with the ball."
With 2:27 left in the third quarter, senior forward Nathan Stacy, the leading scorer with 26 points, earned his fourth foul of the night and subbed out. With Stacy sitting on the bench, the Pirates made numerous shots, but senior guard Kyle Kain led the Jaguars on an unanswered 6-0 run.
"We really needed somebody to step up and be the leader of the night and that's exactly what Kyle Kain did," Muldoon said. "He led us to the victory that night."
The game ended with a clutch stretch of free throws by Kain and Stacy, who returned from the bench, to win the game.
Senior guard Staton Rebeck said that the first game was a way to show everybody what to expect from this season.
"The first game was intense and a good game for us to start the season out with," Rebeck said. "It showed what we needed to improve on, such as running the break, defense and free throws. We will keep improving at practice and be ready for Gardner on Tuesday."
The next game will be at Gardner-Edgerton High School on Tuesday, Dec. 4.
(Visited 4 times, 1 visits today)
About the Writer
Alana Flinn, JagWire editor-in-chief
Alana Flinn is a third year staffer who is looking forward to a year full of new experiences. As editor-in-chief, Flinn hopes to finally win a Pacemaker for Mill Valley News while maintaining the quality of JagWire. She will also continue to report on her favorite sport, football. Flinn's favorite quote is: "Every person you meet, every single one, is looking for their story. There are no exceptions. You become part of it by how you treat them." -Anonymous