USDA representative visits district
U.S. Department of Agriculture Deputy Undersecretary Dr. Janey Thornton praises Catty Shack leaders and cafeteria staff
U.S. Department of Agriculture Deputy Undersecretary Dr. Janey Thornton visited Mill Valley on Wednesday, April 9 to meet with Catty Shack student leadership and members of the cafeteria staff. During the meeting, Thornton, along with director of student nutrition Amy Droegemeier and other USDA representatives, toured the school store and talked to Catty Shack leadership about what the school store has done to adjust to recent changes to federal nutrition guidelines.
"We're trying to introduce more foods to kids so they can understand that what's good for you can also taste good," Thornton said. "The general idea is to assure kids and parents that what [students are served at lunch] is healthy."
Over the past two years, marketing teacher Dianna Heffernon and marketing students have been working closely with Droegemeier to introduce Catty Shack products that follow the new nutrition guidelines. The guidelines were formed as part of the Healthy, Hunger-Free Kids Act, signed by Congress  in 2010, and have since been put in place by the USDA.
"[Eating healthy] is a lifelong skill," Heffernon said. "This is something students will be able to take and us for the rest of their lives."
During her visit, Thornton praised marketing students who run the Catty Shack for their "excellent leadership," adding that she was "very proud" of how well they have done with implementing the standards into the store.
"The collaboration and partnership here is very impressive," Thornton said. "What students are learning in school is going to help them make healthy choices down the road. It's an educational process and it starts with young people."
Droegemeier said she was glad to have the positive recognition brought to the De Soto school district.
"It was a huge honor to be selected … Dr. Thornton had the choice of any school in the Kansas City metro area and she chose us because of the things we do," Droegemeier said. "It's so great to get that good recognition and to be recognized by her."
(Visited 37 times, 1 visits today)
About the Contributor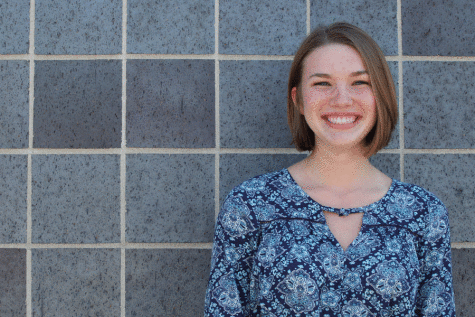 Sarah Myers, JagWire editor-in-chief
This is senior Sarah Myers' third year on staff. She is excited to be a JagWire editor-in-chief and make the paper the best it can be. While not in the journalism room, Myers can most often be found in the theater, performing in a musical or play. She is also involved in NHS, SLT and Student Ambassadors. Myers loves journalism, theater, any class of art teacher Jerry Howard's, history, life science, art, music, people and God. In her free time,...