Underrated KC: The Dessertery
In this weeks Underrated KC blog, we traveled to local restaurant The Dessertery
It's the first actual post of Underrated KC, and in honor of it, we decided to keep things local. Our blog took us to The Dessertery, located off of Johnson Drive and K-7. The Dessertery supports its local artists, and hosted a book signing the day we were there. The author was local, and writes children's stories. This bakery is located very close to the school, and is next door neighbors to some other familiar restaurants: Pizza West, Pegah's and Knub's Pub to name a few.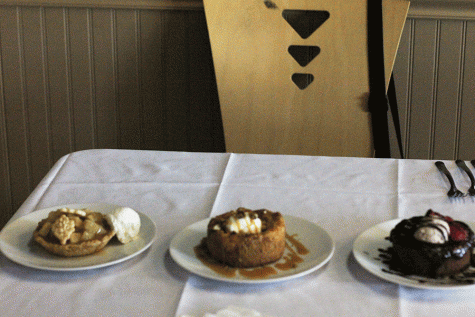 By Katya Gillig
The Dessertery has a cute and cozy atmosphere, but at times can be too quiet. Instead of a peaceful Starbucks atmosphere, it has a dead silence to it. This made the whole experience a little awkward, no matter how cute the furniture was, or how good the pastries were.
Ally got the Chocolate Euphoria. While the cake is not technically gluten free, since flour is used in the same kitchen and there is a risk of cross contamination, it is flourless and can be an option for people with acute gluten allergies. While a good cake, it was very dry and bitter. The sweet frosting balanced it out, and made it a good dessert all around.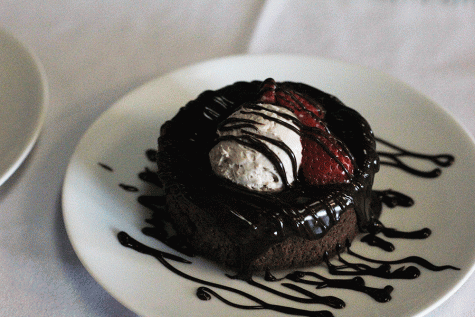 By Katya Gillig
Katya bought the Mini Apple Pie, and is a self-proclaimed apple pie connoisseur. She makes a mean apple pie, and knows what she's talking about when she says, she's had better.  The pie was good, but would be better heated. The crust was dry, but the pie overall had a nice presentation.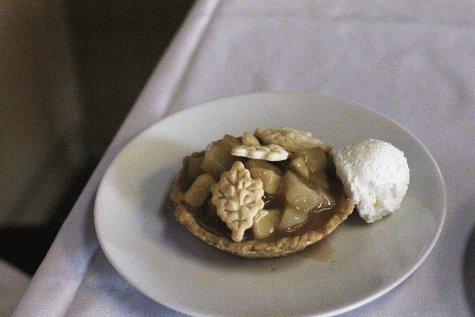 By Katya Gillig
We came to the consensus that Abby's Chess Cake was the best. It was warm, and had a crusty shell with a gooey inside. It was topped off with caramel and a whipped cream topping. For people with allergies, this would not be the treat for them, seeing as it had pecans in it.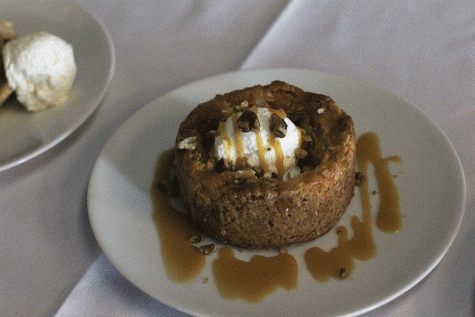 By Katya Gillig
When looking at the history of this location, one might say it is cursed. In five years, there have been four businesses and five ownerships that have come and gone. The whole strip mall has proven to be a hard place to support a thriving business.
The service could be called good, at best. Our waitress was polite and prompt, if a little cold. She did not seem to want to be here. There were only two people working at the time we were there — our waitress and another worker in the kitchen. We gave her a good tip, only because she allowed us to take so many pictures.
We would recommend The Dessertery, only for the food. The Dessertery also offers breakfast items, such as chocolate waffles and French toast. Get there early as they often run out of popular dishes. It would be best to get food to go, but if you stay be prepared for a quiet, awkward meal.
(Visited 68 times, 1 visits today)