Underrated KC: Sushi Mido
For this weeks blog, we feature Sushi Mido
For this week's blog we decided to mix it up a little bit. We decided to go to Sushi Mido, but Ally and Abby could not come. Instead Katya went with a couple of her friends, Marah and Grace. Sushi Mido is Katya's favorite restaurant; she is a regular. It is also one of the top restaurants in Shawnee, according to By The Numbers.
Sushi Mido is located in downtown Shawnee on Nieman Road, between Shawnee Mission Parkway and Johnson Drive. Sushi Mido offers many different types of sushi. They have sushi rolls for the less adventurous and raw sushi for those looking to try something different. If sushi isn't your thing, you can also get a variety of chinese foods.
Sushi Mido has a great atmosphere. There is a sushi bar where you can see the sushi chefs making your food. It is often very busy during lunch time, but ensures the atmosphere from becoming too quiet. Sushi can get expensive, but Sushi Mido offers a great lunch special where you can get three sushi rolls, a salad or soup, and a choice of an egg roll or two crab rangoon for just $12.
Katya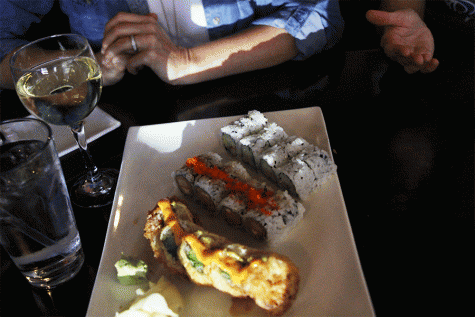 got the K.C. Chiefs roll, a california roll and a dinosaur roll. The KC Chiefs is her personal favorite. It has a piece of fried crab and some cream cheese, wrapped in rice topped with
masago and eel sauce. The dinosaur roll is spicy crab meat, avocado and cream cheese wrapped in soybean paper and deep fried. It is topped with spicy mayo, yuzu aioli and eel sauce. The california roll was good, and the avocado tasted especially fresh. They were all delicious, and she would highly recommend all of them.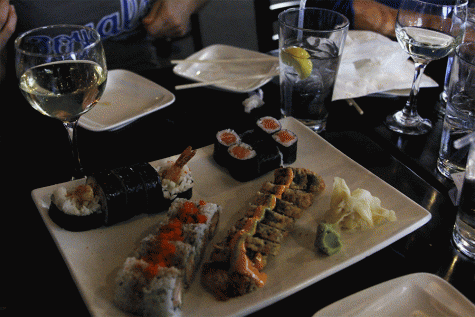 Marah got the rock 'n' roll, the dynamite roll, the KC Chiefs roll and the salmon roll. The rock 'n' roll is shrimp, crab, cream cheese and cucumber
topped with masago and eel sauce. If you don't like cucumber, you can poke it out with your chopsticks. The dynamite roll is spicy salmon, asparagus and crab meat, it is deep fried and topped with spicy mayo, yuzu aioli and eel sauce. They were all very good and all are recommend.
Grace got the KC C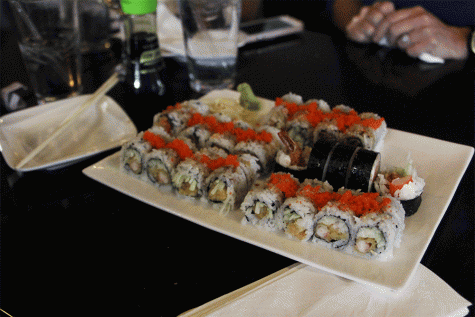 hiefs roll, the rock n roll, the shrimp tempura roll and the spider roll. The spider roll is deep fried soft shell crab, lettuce and cucumber,
topped with masago and eel sauce. The spider roll could be better. All of the rolls were very good, but the KC Chiefs were a favorite for all of us.
Sushi Mido is the perfect place to grab a couple of your friends and go for lunch. We all love the KC Chiefs roll and recommend you give it a try. I strongly recommend you go try Sushi Mido.
Photos by Katya Gillig
(Visited 143 times, 1 visits today)