Underrated KC: Charlie Hustle
This week we traveled to local shop Charlie Hustle
For this week's blog, we broke our own rule and went to a shop that wasn't underrated: Charlie Hustle. The store became quite popular last year, so our review might be something you've already heard of. However, we decided to review it anyways because it is a staple in Kansas City fashion and a prime example of why this city is so special.
Some of the clothing may seem familiar if you've read one of our previous blogs about Made in KC. This is because Charlie Hustle products aren't exclusive to their shop.
The Charlie Hustle shop is located in the plaza, on West 47th Street and Broadway. It is near a lot of the other clothing stores, so it is super convenient to walk into after you go to all of your other favorite places. The interior of the store is very plain, but even though the store isn't lavish or fancy, it does give off a cozy vibe.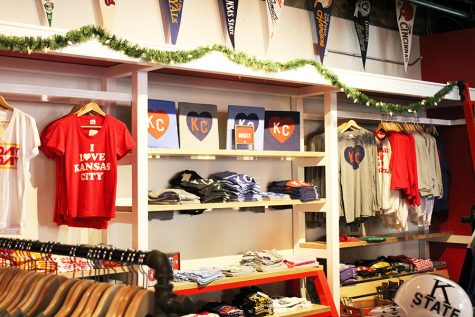 Ally owns one shirt from the store that pictures an illustration of Alex Gordon on it. She enjoys the store and finds all of the products super cute, but thinks that the shirts are a bit over-priced. Also, there is very little variety when it comes to color scheme and design, but that statement shouldn't be taken too hardly considering the overwhelming theme of the store is, of course, Kansas City.
Katya owns five shirts from the store. She has three of the signature heart KC shirts, as well as an Arrowhead stadium and a Kansas City Monarchs shirt. She loves the comfort of the shirts, their softness never wears. She loves their shirts and would wear any of their designs.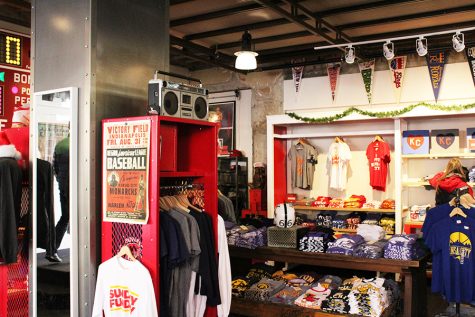 Abby doesn't own any Charlie Hustle clothing, but still loves the designs. The colors are classic and can go with almost any outfit. One cool feature Charlie Hustle has is they don't just print KC designs on their shirts, they also print logos of restaurants that are local to KC. Local barbeque restaurants seem to be featured the most, although that shouldn't be a surprise to anyone.
Overall we definitely recommend Charlie Hustle to any Kansas City fan. We highly encourage you to go check it out.
Photos by Abby Layton
(Visited 108 times, 1 visits today)