Underrated KC: Blue Chip Cookies
This week we visited Blue Chip Cookies in Leawood
This week, we went to Blue Chip Cookies at Town Center Plaza in Leawood. They offer delicious fresh cookies baked from scratch as well as ice cream. We have been there before, and wanted to share it with others. They were named the best cookies in Kansas by Kansas City Magazine, and Clint Eastwood once said it was the "best cookie I have ever tasted." Although the cookies are a little pricy, they are worth it.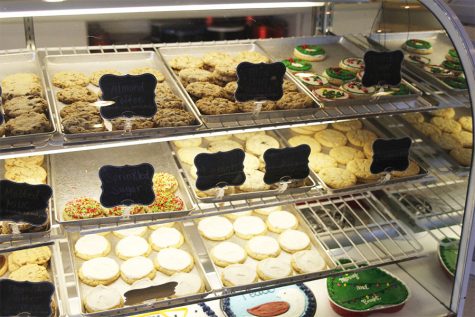 The flavors included almond toffee, blue chip royale, coffee toffee, cinnamon delight, peanut butter surprise, chocolate chip, frosted sugar, their famous white chocolate chip macadamia nut and many more. The cookies themselves are plenty big; one is enough to fill you up.
Almond toffee is Katya's personal favorite. It has chocolate chips, almonds and chunks of peanut butter toffee. Coffee toffee is a similar cookie that has all of the same things as almond toffee, but with coffee in it.
The peanut butter surprise is a good choice for peanut lovers. The "surprise" is chocolate chips and peanuts. It tends to be a little dry, but tasty nonetheless.
The cinnamon delight cookie, or snickerdoodle, is the best snickerdoodle we have ever had. It has the perfect cinnamon to sugar ratio. The cookie itself is perfectly moist every time.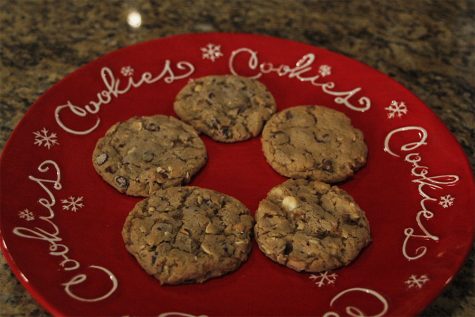 As for ice cream, Blue Chip offers a variety of flavors. They also have special waffle cones like ones dipped in chocolate with topping like peanuts, sprinkles or even candy.
They offer specialty cookie cakes with personalized designs. Cookies can also be shipped anywhere in the U.S.
We highly recommend you try out any cookie from Blue Chip. We guarantee it will be delicious.
(Visited 96 times, 1 visits today)