Underrated KC: Black Dog Coffee
For this weeks blog we checked out local coffeehouse Black Dog Coffee
For all coffee fans, Black Dog Coffee is definitely a good place to try. It is located in Lenexa, just off 87th St. They offer a variety of coffee flavors and offer some delicious treats from the bakery next door, Ibis Bakery.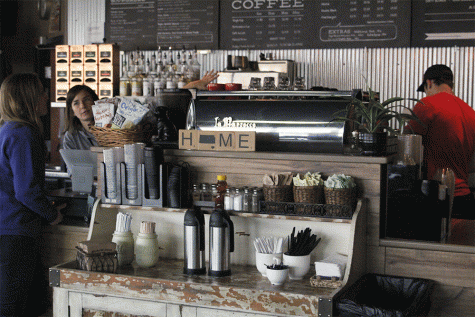 Black Dog offers a cute, cozy atmosphere. It is a perfect place to go study after school, although that is a very popular time. The shared space between
Black Dog and Ibis was a cohesive feel, but design-wise it was a different atmosphere when you crossed between the stores. Although, everything inside of the building was a perfect addition to your Instagram aesthetic or Snapchat story, including the foam design you get on top of every hot drink.
Katya got a Snickers latte and a plain croissant. The Snickers latte had a strong coffee flavor, which is good for coffee lovers. She thinks it would be better iced. The croissant was good, but was a little crispy on the outside. It had a good balance of a soft, fluffy inside and a flaky outside. She recommends both products, but if you get the Snickers be ready for real coffee.

Abby got a Vanilla Sky latte and an apple spice muffin. The latte also had a strong coffee flavor, if a little flat. It was a simple drink, with a delicious
"Plain Jane"vibe. The apple spice muffin was delicious with a perfect balance of apple and spice. The only thing she would change is the apple chunks actually in the muffin. The apple pieces made the texture of the muffin interesting to eat. It is a pastry definitely dedicated to apple pastry lovers only.
Ally got a Shatto Mocha and a slice of cinnamon roll coffee cake. The Shatto Mocha is by far the best special drink on the menu. It was a strong coffee flavor, which Ally adores since she's a large coffee lover, and the amount of chocolate is just right. It is in no way over-the-top or extravagant, but manages to be fantastic even though it is simple. Her cinnamon roll coffee cake was also delicious. It could've been better with less frosting on the top, but the frosting itself wasn't too sweet like at other bakeries, which was nice. The cake itself was absolutely delicious and she would eat it everyday of her life if she could.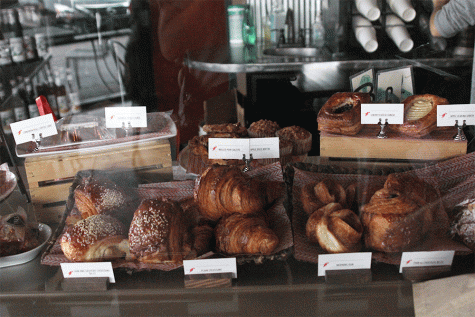 Overall, Black Dog is a great place to get some coffee or a sweet treat. We highly recommend you check it out.
Photos by Katya Gillig
(Visited 40 times, 1 visits today)