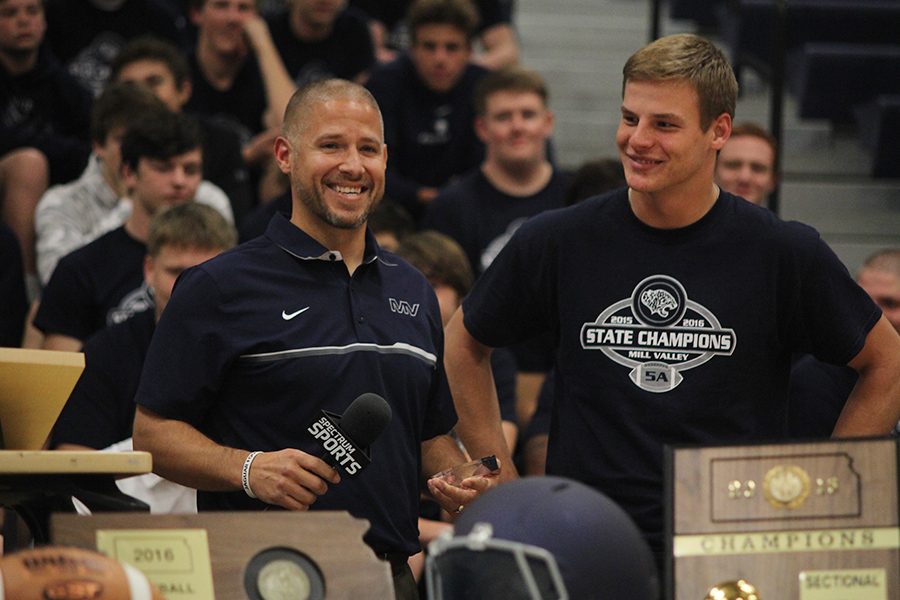 By Sophie Rosen
Two-time state championship team recognized at pep assembly
Special appearances by Shawnee mayor and TWC Sports anchor assist in the celebration of the football state win
Students filled the bleachers during seminar on Tuesday, Nov. 29 to honor the football team on its second consecutive state championship title. The assembly was hosted by TWC SportsChannel anchor Mick Shaffer and performances by the Silver Stars and cheer team gave the atmosphere a boost.
Shawnee mayor Michelle Distler also made an appearance and delivered her speech congratulating the team on its achievements as well as making a proclamation that it was Mill Valley Day.
Introduced by defensive line coach Eric Thomas, head coach Joel Applebee gave thanks for the support of the school and recognized the achievements of the team.
"I love seeing the kids have success, to me the most important thing is seeing their hard work being rewarded," Applebee said, " [It] is really exciting and rewarding to us as coaches."
Applebee also used his time to thank the senior players for their contribution to a successful season.
"[The seniors] are big leaders in our group and they really did a good job of showing the underclassmen what it takes to get the job done week in and week out," Applebee said.
Following Applebee, Shaffer presented junior quarterback Brody Flaming with the honor of being the Student Athlete of the Week.
"It felt pretty great [to be awarded Student Athlete of the Week]; I was not expecting it at all," Flaming said. "[I achieved the award by] working hard everyday at practice and having my teammates push me to get better everyday."
According to Flaming, winning the second consecutive state title resulted in a morale boost at school, which was seen as the students rushed the field after winning the state championship game on Saturday, Nov. 26.
"I definitely think that everyone at the school has gotten more school spirit from [from winning state again]," Flaming said. "The students reacted [to the win] like they were crazy, [which was] awesome because that made it all the more fun to celebrate."
Overall, the assembly celebrated the hard work of the players and the final season for the current seniors on the team.
"We are going to miss [the seniors] as always. Every year we miss those guys because they are a big part of our program and very involved," Applebee said. "They have worked very hard, and we will definitely miss them."
(Visited 54 times, 1 visits today)