Trick or Treat So Others Can Eat collects donations for De Soto Food Pantry
StuCo and volunteers were able to collect over 1500 bags of goods to help people in need Wednesday, Nov. 6
StuCo, with the help of over 50 students, collected donations for the De Soto Kansas Food Pantry Monday, Nov. 4 through Wednesday, Nov. 6, making over 1500 bags of food and other supplies for families in need.
Senior Avery Altman, head of the StuCo committee for Trick or Treat So Others Can Eat, believed the event was very successful.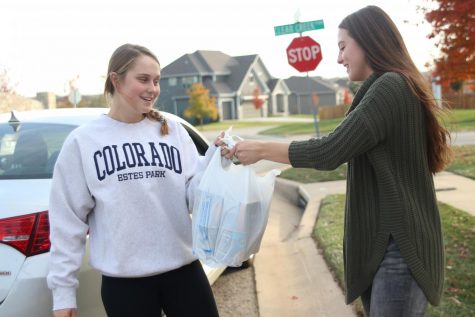 "We were able to hit a lot of houses," Altman said. "We had … [a lot of] volunteers … [and] had a really good outcome this year."
Altman feels that the event is a great way for students to help combat local hunger.
"Trick or Treat so Others Can Eat was started as a way for Student Council to get extra food, canned good items and hygiene products to the De Soto food pantry, because they really, really need help getting food," Altman said.
Junior Katherine Weigel thought the event took a lot of preparation.
"Stuco members stapled flyers to bags and planned all the routes … [to help the] De Soto food pantry," Weigel said.
Compared to years past, Altman felt the event ran more smoothly. 
"This year was the first year we actually mapped out how to distribute everything," Altman said. "I think each year … [the event] grows and becomes more organized and altogether more productive."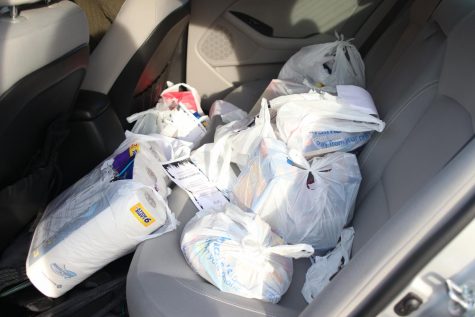 Even through the event got delayed a week, Altman was excited about the turnout. 
"It was actually a blessing in disguise," Altman said. "We ended up being able to get together over 1500 bags and wires together … [and] hit a lot more houses."
Wiegel decided to participate in the event to help people in need.
"I'm in StuCo so i knew about the event," Weigel said. "I knew all about the event and it's always good to help out the community."
For Altman, the event is a great way for students to get involved that she hopes will continue to grow. 
"It is a great event that can [be] grown upon," Altman said. "It may not be hard work, but it makes a really big difference in our community."
(Visited 288 times, 1 visits today)