Track team prepares for KU Relays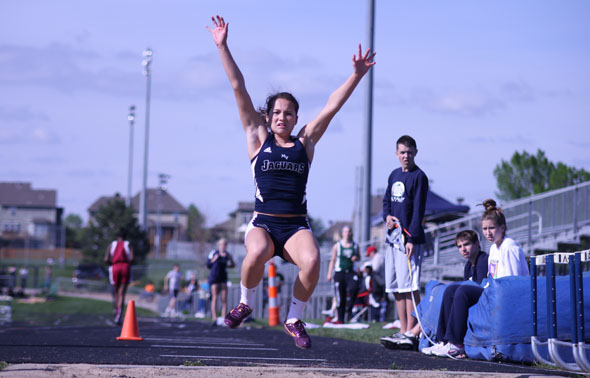 A select group of track team members have qualified for the University of Kansas Relays Friday, April 20-Saturday, April 21 in Lawrence. To qualify, team members have to achieve the top scores or times in their event at meets from the current season as well as previous seasons. Excitement is spreading among the team in anticipation of the prestigious meet.
Junior Kathy Nyugen qualified for the triple jump for the first time in her third year on the team. Nyugen is looking most forward to competing with other high school qualifiers to see how they compete.
"I'm super excited, but nervous," Nyugen said. "It's going to be intimidating to see all the other qualifiers and it's going to be really hard, but overall it will be a great experience."
Sophomore javelin thrower Parker Muckinthaler is also looking forward to the tough competition experience.
"The relays mean that I have a great opportunity to compete against some of the best throwers," Muckinthaler said. "It's also a great chance to learn from the experience."
Competition begins at 8 a.m. at University of Kansas Memorial Stadium.
(Visited 10 times, 1 visits today)
About the Writer
Alana Flinn, JagWire editor-in-chief
Alana Flinn is a third year staffer who is looking forward to a year full of new experiences. As editor-in-chief, Flinn hopes to finally win a Pacemaker for Mill Valley News while maintaining the quality of JagWire. She will also continue to report on her favorite sport, football. Flinn's favorite quote is: "Every person you meet, every single one, is looking for their story. There are no exceptions. You become part of it by how you treat them." -Anonymous