Track coach wins state award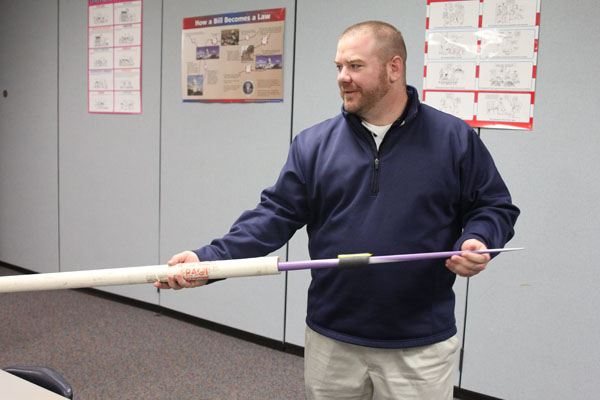 Assistant track coach Cory Wurtz was awarded the Kansas Cross Country Track and Field Coaches Association's Assistant Coach of the Year Award for coaching javelin.
Head track coach Chris Dunback nominated Wurtz for the award because of the success he has had with his athletes.
"He deserves it," Dunback said. "It's as simple as that."
In his six years of coaching, Wurtz has had 14 state qualifiers, 10 of which placed. He has also coached two state champions.
When Wurtz began coaching the track team, the boy's javelin record was 165 feet. Since he has been coaching, the record has increased to 224 feet.
According to Wurtz he feels honored and humbled of his award, because there are only 11 KCCTFCA awards given out each year. He also attributes his success to his athletes' drive.
"It's not just my coaching that gives these athletes success," Wurtz said. "I've been successful because of the athletes."
Wurtz will attend an awards presentation in Junction City, Kan., on Saturday, Jan. 7, to accept his award in front of track coaches from around the state.
(Visited 14 times, 1 visits today)
About the Writer
Alana Flinn, JagWire editor-in-chief
Alana Flinn is a third year staffer who is looking forward to a year full of new experiences. As editor-in-chief, Flinn hopes to finally win a Pacemaker for Mill Valley News while maintaining the quality of JagWire. She will also continue to report on her favorite sport, football. Flinn's favorite quote is: "Every person you meet, every single one, is looking for their story. There are no exceptions. You become part of it by how you treat them." -Anonymous