Track coach Eric Thomas finds his inspiration from mentoring students on the field and in the classroom
Coaching his daughter and other athletes has been a joy for longtime coach
February 11, 2015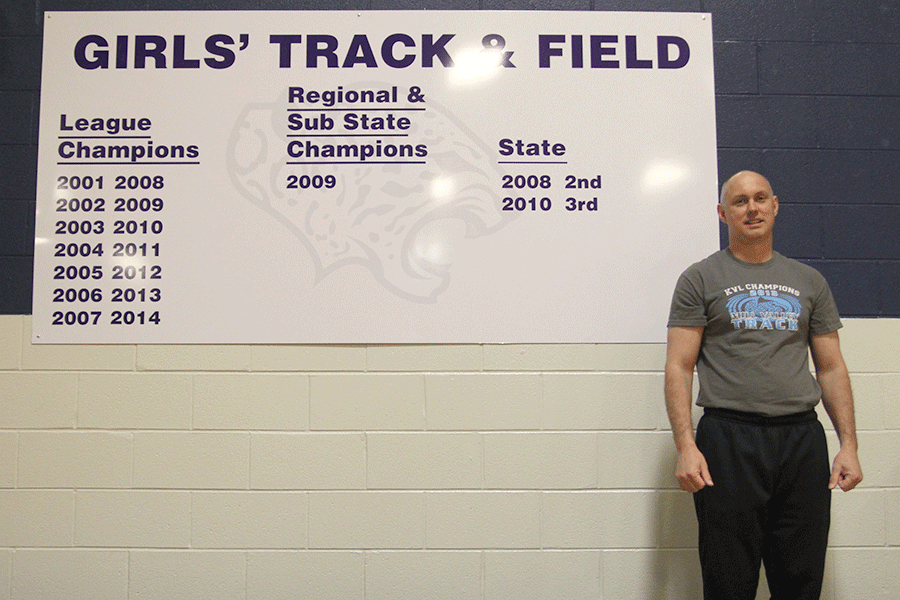 Photo by Claire Biles
The football field and track are second homes to football and track coach Eric Thomas, who has poured hours of his life into improving Mill Valley athletics.
Eric has coached football and track for a total of 13 years at both De Soto High School and Mill Valley. He took a break initially when coming to the school from football, but soon returned. Since Eric has coached track, the girls team has finished second and third at state, in 2008 and 2010 respectively. The track team has also won multiple regional titles and 14 straight Kaw Valley League titles for the girls team. Eric also teaches science.
His track coaching has changed dramatically with him constantly learning new things about the complex sport from the beginning to even today. However, the motivation and connection with athletes have always been his driving force.
"I didn't have any [expectations in the beginning]. I wanted to coach kids to inspire them to work hard," Eric said. "I was coaching the 400 meter at the time, then the high jump. I had never been involved in high jump before, so I had to learn everything. I was a triple jump and long jumper and I didn't even know if I had even watched high jump before. I had to go educate myself on that. We kind of had that blue-collar mentality and then a couple years later I started coaching sprinters. I wasn't a sprinter so I had to learn, just like high jump, the workouts and things like that."
For sophomore Morgan Thomas, her father being her teacher, mentor and track coach has been an experience that has benefitted her as a student.
"It's honestly a lot of fun," Morgan said. "I like his classes and I like taking them. He can help me out on the side if I have questions at home … I think he's done a good job [ at Mill Valley]. I was always worried if he was going to be a good teacher coming [into high school], and if people like him. But he's a good teacher and he's been [pretty successful]."
Morgan also has grown as an athlete under her dad's guidance even before she began attending high school.
"When I was in elementary school I would come up and run with the high school," Morgan said.  "It's been [enjoyable] … You can ask him any questions. If you want to work on something, you can go and work [with him to improve]."
Being able to coach your children in a sport you both love can be a joy for Eric, but it also can bring on somewhat unexpected challenges.
"I think that [coaching Morgan in track] has made our relationship stronger," Eric said. "But there are times where you have to be critical of their technique or performance and that's not always easy when it's your own kid. I think both my daughters know I'm pretty honest and I'm pretty fair and other people know that too. I'm going to approach them the same way I would approach anybody, quite honestly. So sometimes that's a little hard for your kid to swallow, but that's just the way it goes."
"
I didn't have any [expectations in the beginning]. I wanted to coach kids to inspire them to work hard"
— Football and track coach Eric Thomas
Making the sport of track a family affair helps the Thomases to connect on a deeper level and helped inspire Eric to join this profession.
"I see her everyday and of course we talk about life and competition and I've coached her since she was in the second or third grade in high jump.  That's one of the reasons why I wanted to be a teacher because I wanted to spend more time with my own kids and that's been a wonderful part of being a teacher and coach. I get to see my kids everyday for a lot of the day. She's in my class, I coach them, my other daughter comes from the middle school, we lift weights together, I cook them dinner at night … It's been good to get to spend that much time with them."
A new league change to the Eastern Kansas League is on the horizon and Eric believes that it will be a change that will both challenge and improve the team.
"The competition is going to be quite a bit better," Eric said. "Those track teams will be bigger and so we will have to get better to compete with those teams. It will prepare us for state a lot more than just our current league. I think a high level of competition always breeds success."
Mentoring the student that he teaches and coaches has always been the goal for Eric and why he loves to work here.
"I think our students [are the greatest part about this school]," Eric said. "Our kids are just good kids. They want to learn; they show up, they have good behavior. They are respectful, they do what you want them to do and it's been very rewarding. It was the same way at De Soto, quite frankly. It's no wonder that so many of them go on to have such great success."
(Visited 249 times, 1 visits today)