Track captures League title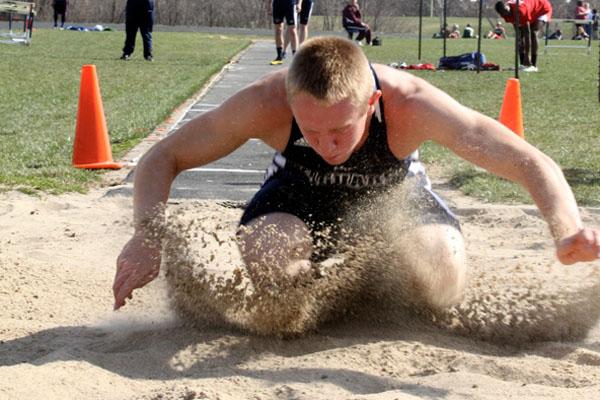 The girls track team added another year to their string of Kaw Valley League titles, making this the 13th in a row on Wednesday, May 8 at Mill Valley.
The boys team also took first place to make this its sixth title in a row.
Junior Mary Altman said that the meet went smoothly which helped keep the streak alive.
"It felt good to be able to keep the tradition going," Altman said. "It would have felt awful if we would have broken the streak this year, but everyone gave their best effort and in return we were more than pleased with the outcome."
The top placers are as follows:
Boys Javelin Throw:
Junior Ben Carroll, first place
Junior Henry Midyett, second place
Junior Grant Reiner, fifth place
Boys Shot Put:
Senior Coleman McCann, third place
Junior Ryan Smith, fifth place
Boys Long Jump:
Senior Staton Rebeck, second place
Boys Pole Vault:
Senior Connor Hays, first place
Sophomore Colton Bray, second place
Boys 300 Meter Hurdles:
Sophomore Cody Deas, first place
Boys 110 Meter Hurdles:
Sophomore Cody Deas, first place
Boys 4×800 Meter Relay:
Mill Valley, first place
Boys 4×400 Meter Relay:
Mill Valley, first place
Boys 4×100 Meter Relay:
Mill Valley, third place
Boys 3200 Meter Run:
Sophomore Callahan Eckardt, first place
Freshman Kasey Conklin, second place
Senior Stephen McEnery, fourth place
Boys 400 Meter Dash:
Senior John Poorman, third place
Senior Keenan Ford, fourth place
Boys 1600 Meter Run:
Sophomore Kurt Loevenstein, first place
Freshman Derek Meeks, second place
Boys 800 Meter Run:
Sophomore Kurt Loevenstein, first place
Junior CJ Meeks, second place
Boys 100 Meter Dash:
Sophomore Tai Nguyen, fifth place
Girls Shot Put:
Sophomore Madison Holland, second place
Senior Joy Kennedy, third place
Girls Javelin Throw:
Junior Taylor Cowan, first place
Senior Mallory Baska, fifth place
Girls Triple Jump:
Senior Maddie Estell, first place
Girls Discus Throw:
Sophomore Madison Holland, first place
Junior Kellyne Weathers, third place
Girls Long Jump:
Senior Emily Brigham, first place
Girls 4×400 Meter Relay:
Mill Valley, second place
Girls 4×100 Meter Relay:
Mill Valley, fourth place
Girls 4×800 Meter Relay:
Mill Valley, second place
Girls Pole Vault:
Senior Emily Brigham, first place
Girls 300 Meter Hurdles:
Senior Kathy Nguyen, third place
Girls High Jump:
Senior Maddie Estell, third place
Sophomore Ally Shawger, fourth place
Freshman Katie Burke, fifth place
Girls 100 Meter Hurdles:
Sophomore Holly Webb, second place
Junior Mary Altman, fourth place
Girls 400 Meter Dash:
Senior McKenzie Schmitt, second place
Sophomore Emily Hansen, fourth place
Girls 3200 Meter Run:
Junior Mariah Kalma, fifth place
Girls 200 Meter Dash:
Sohpmore Emily Hansen, fifth place
Girls 1600 Meter Run:
Freshman Ellie Wilson, third place
Junior Mariah Kalma, fourth place
Girls 800 Meter Run:
Freshman Ellie Wilson, third place
Junior Holly Peterman, fourth place
(Visited 2 times, 1 visits today)
About the Writer
Alana Flinn, JagWire editor-in-chief
Alana Flinn is a third year staffer who is looking forward to a year full of new experiences. As editor-in-chief, Flinn hopes to finally win a Pacemaker for Mill Valley News while maintaining the quality of JagWire. She will also continue to report on her favorite sport, football. Flinn's favorite quote is: "Every person you meet, every single one, is looking for their story. There are no exceptions. You become part of it by how you treat them." -Anonymous