By Luke Wood
Thursday
November 21, 2022
The approach of Thursday, the eve of game day, brings about a slightly different practice routine. Football athletes arrive at school at the regular 6:40 a.m. time for film review of Wednesday's practice in the morning and while, in the afternoon, athletes go straight to the field for practice at 3:30 p.m., helmets only.
Thursday afternoon practice is a full speed-run of all of the previous offensive and defensive plays worked on at practices earlier in the week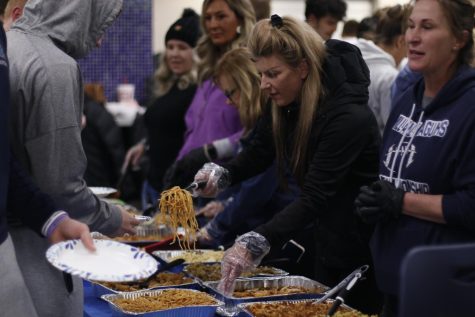 "Thursday practice is really just making sure that we're polishing up all of the plays we've worked on all week and making sure we're prepared," Jay said. "It's kind of like a pretest where you make sure you know all of the information you're supposed to know. We make sure that we go over everything with everyone in special teams to make sure they are in line and ready to go for Friday night."
Whilst regular practice is happening on the field, parents begin to arrive at the front of the school, their trunks full of pasta, salads and other high-carb foods, to begin setting up the main commons area for the team's weekly pregame team dinner. Team dinners are planned and orchestrated completely by the parents.
At the conclusion of practice at 5:05 p.m., athletes, tired and hungry, rush to the locker room to change out of their practice gear and head to the main commons area to load their plates for their weekly team dinner.
Applebee designates the responsibility and uptake of planning team dinners to a group of parents who make up the team dinner committee. Within the committee, responsibility for planning team dinners rotates between groups of two to three parents, divided by class.
"Typically we'll have senior parents plan the dinner one week, then junior parents another week, then sophomore parents and freshman parents follow those weeks after," Applebee said. "What I've done is I've broken down everything we do in our program, like team dinners, into committees. Thankfully, by parent volunteers, we are able to keep those different committees running."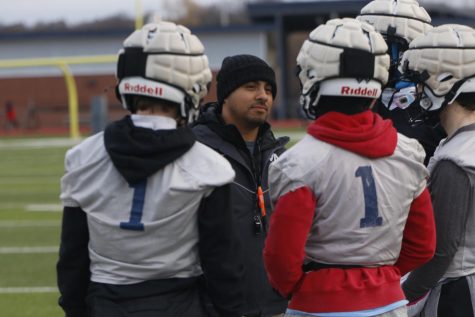 Delectable scents and smells of freshly cooked food fills the commons upon the arrival of the football team from Thursday afternoon practice. Lines are formed, plates are loaded and stomachs are filled as the exchange of conversation and laughter consumes the next hour and half of the evening. 
Miller cherishes the extra time pregame dinners allow for him to grow closer with his teammates.
"It's just a great opportunity to talk with each other and become closer to my teammates and become more of a family."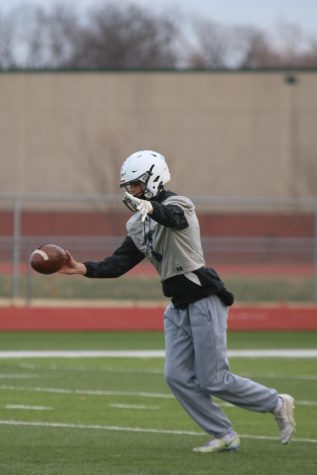 Athletes are given a small window of time between the end of their pre-game team dinner and 7:20 p.m. to get their homework done, supplementally review film on their own time and wind down for the evening before returning to school to have their separate offensive and defensive team meetings.
"Our separate offensive and defensive meetings go over the same things our team meetings go over," Jay said. "It's more of a verbal walkthrough of what Friday night will look like."
Offensive and defensive team meetings lead right into a full team meeting at 8:00 p.m., the final team meeting of the week before game day before athletes are sent home for the night to rest up for game day. 
All program members, freshmen through seniors, pack the weight room to revisit goals for the week set forth at Monday morning's team meeting and listen to a motivational speech given by a local veteran.
"Mr. Deerwester comes in every Thursday night to speak to us," Jay said. "He has been around the game of football for a really long time so he's got a lot of wisdom for us. The whole point of our Thursday night meetings is to calm us down and keep our minds focused on the right things."
(Visited 1 times, 1 visits today)