Three ways to get out of the house this Spring break
March 10, 2023
Spring break is an ideal time for high school students to slow down from their busy schedules. A week of rest before the anticipated start of the fourth quarter is  a gift to many. However, if you don't have a vacation planned, it can be easy to stay inside and let boredom take its toll.
If weather allows, consider spending some time outside. This is especially fitting for dog owners, as your pet can benefit from fresh air too.
Social studies teacher Angie DalBello routinely walks her dog 3.3 miles every day and enjoys it for many reasons. 
"I have some of my best ideas when I'm walking," DalBello said. "I'm taking in beautiful scenery, but I love to listen to podcasts and audiobooks as well. I'm always learning and listening to things along the way."
Taking a walk is completely free and can allow you to check in with your mind in the midst of your day. 
"It's totally 'me' time," DalBello said. "Despite how busy or hectic a day may be, I know I'm going to get that 53 minutes to do what I like and make my dog happy." 
For those looking to socialize, going out to get food is a great way to spend time with friends over break. 
Senior Anna Stottlemyre frequently makes trips to places like Andy's Ice Cream, Tropical Smoothie and Sushi UNI with her friends.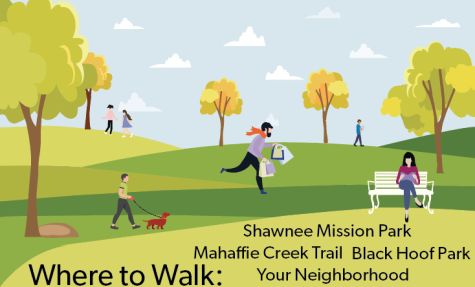 "Pretty much everyone likes getting food," Stottlemyre said. "You can go get dinner, or just something small like a smoothie or ice cream." 
Not only will this satisfy snack cravings, you can spend quality time with others. 
"It gives me and my friends something to do," Stottlemyre said. "We listen to music while we drive there and jam out in the car."
Lastly, consider taking a shopping trip to get out of the house. While this activity may cost more money, it can still be fun. 
Senior Tierney Fields is among many students who like to shop. Fields often goes to Town Center with her sisters to shop at stores like Lululemon.  
"You can spend time with whoever you're shopping with," Fields said. "You can [also] buy new clothes for summer, or for your summer vacation even." 
According to Fields, buying new things can bring a sense of gratification. 
"[Buying new clothes] makes me feel excited," Fields said. "I like putting outfits together, so new things make[s] for more outfits."
No matter how you choose to spend your spring break, these activities will keep you from feeling stuck in your house through taking mental breaks, getting a dose of fresh air and spending time with friends and family.
(Visited 1 times, 1 visits today)