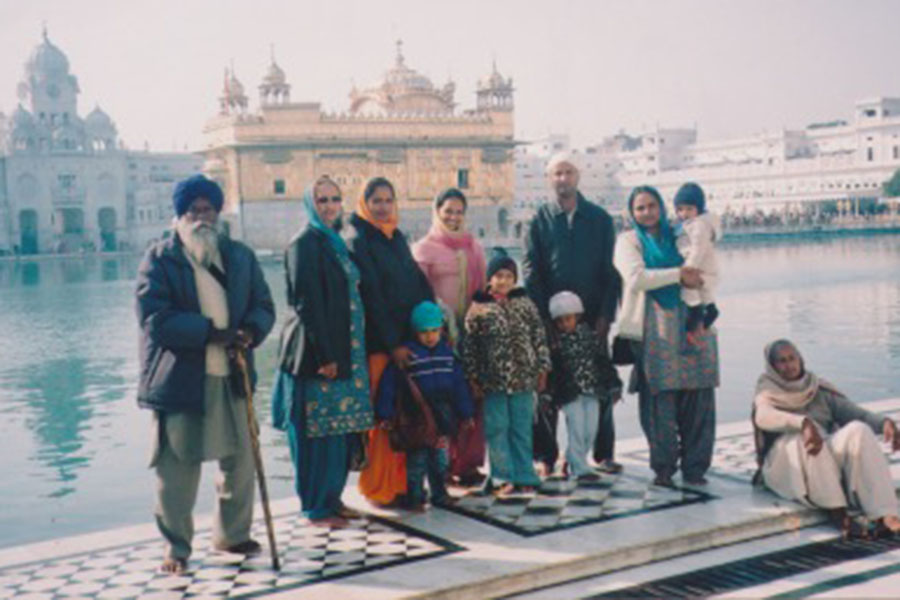 By Ashleen Toor // submitted photo
The Toors
Speaking Punjabi at home is an important part of junior Ashleen Toor's culture
February 19, 2020
The first words she said as a child weren't in English; it was in Punjabi. Her parents immigrated to the U.S. to provide her and her siblings with more opportunities. While her parents left their native country, they made sure to pass on the Indian culture to their children. Even as a first generation U.S. citizen in her family, junior Ashleen Toor's life at home closely resembles her parents' native Indian culture. 
Growing up, Punjabi has been Toor's primary language. While she speaks English at school, at home and at her temple, Toor primarily speaks the native language that her parents had taught her first. Being able to speak Punjabi has opened doors for Toor to communicate in her native language when she travels back to India.
"I can communicate with people from my culture and people who I live with," Toor said. "I feel like it's a good thing to know because whenever we visit India, it's really helpful to know what other people are saying to you and how to communicate with people."
In addition to teaching her children how to speak Punjabi, Toor's mother Kirendeep Kaur has taught her children about their culture and traditions in order to maintain their native culture. 
"We try to speak our language and tell our kids what our culture and traditions are," Kaur said. 
Beyond her life at home, Kaur also takes Toor and her siblings to their temple, the Midwest Sikh Gurdwara, to immerse her children into a community that shares a commonality of the Indian culture. 
"We have many programs in our church, so we try to take our kids over the years so they can know what Indian culture actually is," Kaur said.
According to Toor, over 400 families at her temple share a close relationship on the basis of their religion and language.
"We're really close knit, everyone knows who everyone is," Toor said. "We all just come together on the basis that we're all Sikh, and we all speak Punjabi, and that's what we all relate to."
While the community at her temple and her family has allowed Toor to connect with people of her culture, traveling to India has allowed Toor to truly appreciate her Indian culture.
"I love it. When we go there, I just love seeing the culture, the food, all the people talking, the clothing, everything makes me feel really proud of my heritage," Toor said.
Despite not being able to see many students that share her culture at school, Toor is glad that her peers are open to learning about her Indian culture.
"I like that people are able to accept me for who I am; people actually have an interest in my culture," Toor said. "It makes me happy to know that people you know want to learn about your culture."
(Visited 1 times, 1 visits today)