The Silver Stars dance team win two National titles
After placing first in two categories, the team brought home their second straight National Championship title at the NDA National Championship Competition Friday, March 4 to Sunday, March 6
Ally Sul, Mill Valley News editor-in-chief
March 8, 2022
The Silver Stars won in the small varsity game day category and the small varsity jazz category, giving them two National titles at the National Dance Alliance competition in Orlando, Florida Friday, March 4 to Sunday, March 6. This was their second straight National title win. The team also placed third in small varsity pom and received the Unleashed Award for their performance.
Head dance coach Nicole Porter described the preparations the team took leading up to Nationals. 
"We learned choreography in October from our choreographer Katie Lane, also known as Katie Fear. She comes in and works with the girls for a full weekend around eight hours a day Friday, Saturday and Sunday," Porter said. "They learn all three routines and after we learn them, we start prepping, preparing, cleaning and we'll perform those dances at regional competitions to get feedback."
The Silver Stars's two first place finishes and third place finish gave them their second straight National title in a row. Senior Ella Lorfing described how she reacted when she found out they won in jazz. 
"When we won jazz I was not on stage because I was sick but I walked into the room and they announced that we won jazz and I remember that I was in the back of the ballroom and I fell to the floor," Lorfing said. "I was so excited that they won and I ran up to the stage and was so excited. I couldn't breathe because I was in shock. It was amazing to be able to see that all of our work was worth it."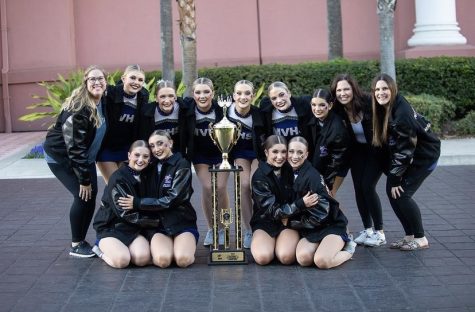 In addition to their first place finish in each respective category, both dances received an innovative choreography award. Porter explained how they were given both the Unleashed Award and the Innovative Choreography Award.
"The innovative choreography award is given by the judges when they see something special within the choreography. That could be staging, it could just be the choreographed moves or things that the girls are each individually featured doing," Porter said. "The Unleashed Award is also something the judges pick. Some get it for emotions, some get it for performance quality and they just happened to think that we had the full package with our pom routine. They don't give the award to everyone, so it's an added bonus when we place."
Lorfing also noted the difference in energy between regional competitions and the National competition. 
"It was very intense, it felt like a collegiate level situation. There was a lot of pressure but it was also really fun to be there with the team and to be there with all the other high school teams," Lorfing said. "Getting to see all the other Kansas teams was a lot of fun."
In the end, all of the hard work the team put in throughout the season paid off and Porter expressed her appreciation for the Silver Stars dance team. 
"I just think that people need to know how hard these girls work. We're an 11-month sport and sometimes they don't get the recognition that they deserve," Porter said. "I'm super proud of them and so happy that I am able to coach them. This was definitely a super special team and a lot of memories were made that I think I will remember forever."
(Visited 202 times, 1 visits today)