The Music Man: With yMusic's help, Ben Folds makes classical cool
Justin Curto, Mill Valley News editor-in-chief
November 19, 2015
Ben Folds has never really been associated with what's conventionally cool — his first-ever single, with '90s power pop group Ben Folds Five, even begins with the lyric "I was never cool in school." He managed to make classical music into something cool, though, as he performed with yMusic in front of a near-capacity Uptown Theater Wednesday, Nov. 18.
Folds has been on the music scene since he began playing piano and singing with the aforementioned trio Ben Folds Five in the mid-'90s. He's worked with the trio, as a solo artist and on projects with author Nick Hornby and actor William Shatner, among others. On his latest album, "So There," he plays eight songs with yMusic, a six-piece classical music ensemble from New York City. The group, which has released two albums and performed compositions by artists like Sufjan Stevens and St. Vincent's Annie Clark, consists of violinist/vocalist Rob Moose, violist Nadia Sirota, cellist Gabe Cabezas, clarinetist Hideaki Aomori, flutist/vocalist Alex Sopp and trumpet player/hornist C.J. Camerieri.
Dotan, a singer-songwriter from Amsterdam, opened the show, which was the last on the tour. He said he's usually backed by a six-piece band, but Wednesday's performance featured Dotan — whose real name is Dotan Harpenau — playing acoustic guitar and a drum alongside a second guitarist. This didn't affect his short set, though, as much of Dotan's music sounded better acoustically than the recorded versions. Dotan entertained with anecdotes between songs as well, and took a note from the headliner by leading a singalong during "Home," the set's standout.
The headlining show began early, just after 9 p.m. YMusic performed a solo number first before the crowd of seemingly longtime Folds fans cheered as the man they came to see took the stage.
Folds and yMusic began with three of their collaborations in a row. While the humor of some of their songs isn't always apparent in the recorded versions, seeing and hearing the songs live made them funnier, with "Not a Fan" especially eliciting laughs from the audience and me.
"Effington," a song Folds prefaced as being "in the key of F — the happiest key," impressed as the first song Folds and yMusic performed that was originally solely by Folds. Along with Folds' other solo material and songs from Ben Folds Five, "Effington" was revamped with a classical arrangement courtesy of yMusic, which made the song — and much of Folds' other music — more intricate and entertaining.
One of the night's many peaks came early on, with Folds' traditional rendition of "Rock This B—-," a song completely improvised on the spot to relate to the show. After the song was over, Folds launched into a bluesy second part, with yMusic following. The improvisation alone made the song a standout, and Folds gave each of yMusic's members a chance to shine by telling them when to play in his lyrics.
YMusic played a second solo song, "Music In Circles," as a halfway point of sorts for the concert. This song turned me into a yMusic fan. It especially showcased Sirota's innovative ability as a violist and the entire string section's prowess as Sirota, Moose and Cabezas hit, plucked and drew their strings through embellished and rapid string parts.
"Erase Me," a powerful crescendo of emotion, set off a series of amazing performances. After that song came "Song For The Dumped," a Ben Folds Five classic, which went from being backed by Cabezas on cello to the song's signature piano banging for one of the night's most interesting arrangements. Folds and yMusic then played their last new song of the night, "Capable of Anything," which entertained despite some flute and piccolo parts sounding slightly shrill coming through the speakers (an incident that occurred a few times throughout the night, but didn't significantly hurt any songs).
"Steven's Last Night In Town," another quintessential Ben Folds Five song, showcased two band members in particular: Sam Smith, Folds' touring drummer, played an awesome drum solo, and Aomori performed a perfect, minutes-long clarinet solo that got many audience members (including me) on their feet cheering afterward. The main set finished with "You Don't Know Me," giving Sopp's amazingly smooth voice a chance to shine as she sang Regina Spektor's part in the song.
After the entire crowd gave Folds and yMusic a standing ovation, they came back for an encore that turned into one of Folds' signature singalongs. Folds first played "Army," my favorite song of his, and split the audience in half for a loud and fun performance of the song's bridge. He abandoned his piano for the show's closer, "Not The Same," instead singing backed by yMusic and a three-part harmony he taught the audience. That song alone left me feeling more than satisfied after Folds' and yMusic's performance that pushed two hours.
In all honesty, I don't know if I'll get to see many shows as interesting as Folds' performance with yMusic. As the two groups prepare to part, one thing's certain — they succeeded in turning classical music into something cool.
Senior Justin Curto is an avid music lover whose tastes range from alternative rock to dance pop. He enjoys supporting the Kansas City music scene by listening longer to 96.5 The Buzz, rocking out to local music and seeing artists live at his favorite venues in the area.
(Visited 21 times, 1 visits today)
About the Contributor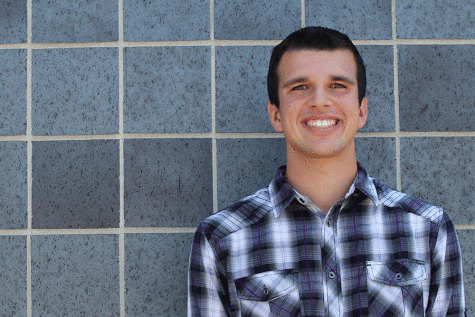 Justin Curto, Mill Valley News editor-in-chief
This is senior Justin Curto's third year working on the JagWire and Mill Valley News, this year as one of the editors-in-chief of Mill Valley News. Outside of journalism, Curto is the president of Club 121 and co-vice president of NHS, and also plans to be in the spring play for the second year. Curto enjoys going to alternative rock concerts, spending time with friends, eating pizza, reading contemporary young adult fiction, watching coming-of-age...