The Music Man: Carly Rae Jepsen mixes fun and sincerity in front of an intimate Granada crowd
In an alternate universe, Carly Rae Jepsen could've played the Sprint Center. The singer opened for Justin Bieber there in 2012, and, had her fantastic third album, "Emotion," gotten some more publicity, she could've sold out the arena.
Instead, Jepsen brought her recent "Gimmie Love" tour to a nearly full crowd at The Granada in Lawrence last night. And I wouldn't have wanted it any other way, as The Granada gave Jepsen's show an intimacy that few other venues would've.
Jepsen is touring to promote "Emotion," her 2015 album that critics and listeners alike acclaimed, but the general public never really got into. The pop princess is best known for "Call Me Maybe," the Grammy-nominated song that broke the record for most digital sales and set the expectations for the popularity of "Emotion."
Fairground Saints took the stage around 7:40 p.m., and I was surprised to see three people with acoustic guitars opening for a pop singer. Even though their Americana music didn't fit with the rest of the pop-centric lineup, I still appreciated Fairground Saints' vocals and the full sound they created acoustically with only three guitars.
Cardiknox — a pop duo that performs as a four-piece — played danceable music that matched Jepsen a bit more. Lead vocalist Lonnie Angle proved that she can both put on a party and belt some notes, and the rest of the band backed her well. Cardiknox releases its debut album this Friday, and, after the duo's performance last night, I definitely want to check out more of its material.
It wasn't but 9 p.m. when Jepsen walked onstage — early for any concert, but understandable given the hordes of elementary school students at the show. I was skeptical about how Jepsen would stage a pop concert at a smaller venue like The Granada, but I put my skepticism to rest when I saw the three light-up diamonds set up behind the stage. Jepsen didn't choose to completely turn her Granada show into an arena concert, though — there were still a few rugs put out and setlists taped to the stage, like you'd expect to see at any smaller to mid-sized venue.
The 80-minute set started off pretty heavily, with Jepsen knocking out both title track "Emotion" and second single "Run Away With Me" after a stellar opening performance of "Making the Most of the Night." This didn't have an effect on the rest of the setlist, though, as Jepsen had more than enough good music to play throughout the night.
Although she may not have the same name recognition as, say, Taylor Swift, Jepsen proved that she's equally as much of a pop star. She worked the small Granada stage better than most artists likely could, making use of a mic stand during slower songs and moving all around during the more upbeat ones. Jepsen may have some work to do in the realm of between-song conversation, though, as most of her segues started with, "This is a song about …" before she launched into the song. (One exception: a humorous story to introduce "Gimmie Love" about Jepsen using the band's walkie talkies to ask for chocolate and make small talk.)
Jepsen's music falls into two distinct categories: the fun and the sincere. She went back and forth between the two last night, interspersing danceable party anthems with softer music and emotion ballads. "I Didn't Just Come Here to Dance," "When I Needed You" and "LA Hallucinations" each took their respective portions of the cake for party anthems, since each featured strong vocals, upbeat synths, colorful lighting and dancing audience members. As far as slower music goes, "Gimmie Love," "All That" and "Curiosity" each gave Jepsen more of a chance to put the focus on her vocals  — the latter was beautiful acoustic performance by only Jepsen and touring guitarist Tavish Crowe, which gave a necessary break from the night's dance pop.
I'd be remiss not to talk about the music off Jepsen's successful breakout album, "Kiss," as well. Jepsen's breakup anthem "Tonight I'm Getting Over You" was a highlight of the night, and it surprisingly blended in with the more mature music off "Emotion." And, of course, hit (an understatement) single "Call Me Maybe" elicited screaming, singing and dancing in a way that I've never seen before, which nevertheless made for a fun performance.
"I Really Like You" closed out the night exceptionally, with Jepsen and the band sticking around for an outro to the song where Jepsen introduced the band. The stacked setlist didn't require an encore, so Jepsen and her band merely bowed before leaving the stage.
It pains me to think that, one day, Jepsen may be headlining venues three, five or 10 times as large as The Granada. It's not that I don't want her to be successful — quite the opposite, actually — but I can't fathom seeing Jepsen's pop masterpieces performed in a more impersonal setting after seeing them performed in such a wonderfully personal way.
Senior Justin Curto is an avid music lover whose tastes range from alternative rock to dance pop. He enjoys supporting the Kansas City music scene by listening longer to 96.5 The Buzz, rocking out to local music and seeing artists live at his favorite venues in the area.
(Visited 9 times, 1 visits today)
About the Contributor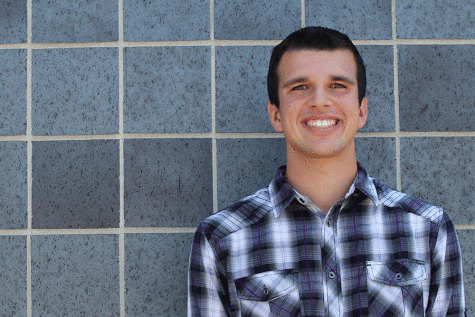 Justin Curto, Mill Valley News editor-in-chief
This is senior Justin Curto's third year working on the JagWire and Mill Valley News, this year as one of the editors-in-chief of Mill Valley News. Outside of journalism, Curto is the president of Club 121 and co-vice president of NHS, and also plans to be in the spring play for the second year. Curto enjoys going to alternative rock concerts, spending time with friends, eating pizza, reading contemporary young adult fiction, watching coming-of-age...