The Legislation
September 26, 2022
Traveling from school to school across the Kansas City metro, providing education on the dangers of Fentanyl, Libby has also worked with several politicians to further her cause, including senator Dr. Roger Marshall. Marshall contacted Libby regarding a bill that would require social media companies to report illegal drug deals on their platforms to the Department of Justice, and requested to name the bill after Cooper. On Sunday, Sept. 18, the Cooper Davis Act was introduced in the Senate.
In an interview with KSHB, Marshall hopes that the bill, if it were to become a law, would need no enforcement on account of the mainstream social media platforms taking initiative to report online drug deals.
"I hope we won't have to [enforce this bill], I hope that they will be proactive," Marshall said. "Basically, as long as they are cooperating, as long as they're doing everything in their power to communicate then that would be great. If not, maybe there will be fines. Maybe there will be something beyond that."
Social media companies would also be required to save information that would later be used as evidence in investigations. While social media accountability was not an original item Libby planned to cover, she believes it's the only platform in the hands of lawmakers that can be controlled to mitigate the digital sale of Fentanyl.
"Senator Marshall recognizes [Cooper's death] as a poisoning, not an overdose, and has really gone to bat in Washington to try to raise awareness and get the current administration to do more to stop the flow of Fentanyl coming into our country," Libby said. "That is a hard task. The DEA is trying all they can but you know they're seizing about 20% [of the Fentanyl] coming into our country. That means 80% is still making it in and the 2021 statistic was that the amount they seized last year was enough to kill every American."
Libby first met with the senator's team in May. Because she believes social media is not doing enough currently to hold online drug dealers accountable, Libby hopes the bill will get enough support to become a law. "The Cooper Davis act raises the level of accountability where the social media accounts are supposed to report any drug activity that they see occurring," Libby said. "It makes them accountable. It's the Attorney General of the United States that they have to answer to so audits can be performed. The government can look at their algorithms and decide if they're doing enough to kind of catch those criminal activities. It's just a higher level of accountability for the social media apps."
For Libby, having her son's name on federal legislation honors him and helps her know something good can come out of tragedy.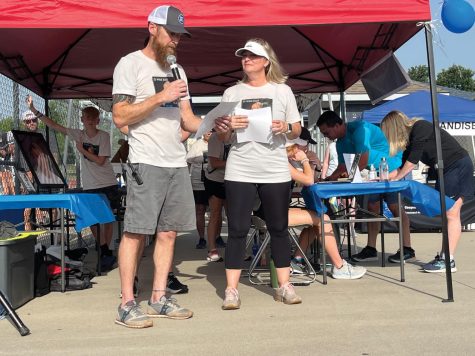 "When I met in May with Senator Marshall's group, he scheduled a follow up meeting with a couple of his people and they, on the phone, announced to me that they were going to be introducing this bill, and they asked permission to put [Cooper's] name on it. And of course, I said yes,"Libby said. "I think it was already in the works. It wasn't something that I requested. It was their own idea. When they took it upon themselves to create a bill and asked his name to be put on it, I thought it would save lives."
In an interview with Fox Business, Marshall's creation and introduction of the Cooper Davis Act was primarily motivated by the record number of Fentanyl-related deaths over the last year and steps that could be taken to mitigate the Fentanyl crisis.
"This is the number one killer, Fentanyl is the number one killer of young adults. We lost more people last year [in 2021] than all of the Vietnam War," Marshall said. "We need to stop that type of behavior, we need to hold social media companies accountable… thousands of these pills are found everyday."
Cooper and his friends purchased the fake Percocet pills from a drug dealer they connected with through Snapchat. Cooper's story and many others like his where teens have gotten access to drugs over social media have driven Libby, along with lawmakers behind the Cooper Davis Act to crack down harder on social media platforms for allowing this kind of behavior.
"Social media apps should not be okay with their platform being a vehicle for drug distribution," Libby said. "Gone are the days of drug deals happening in dark alleys. Being able to purchase a drug that could potentially kill your child is just a few clicks away."
(Visited 1 times, 1 visits today)