The Jaguars defeat Olathe Northwest 54-47
The boys basketball team extends its record to 6-7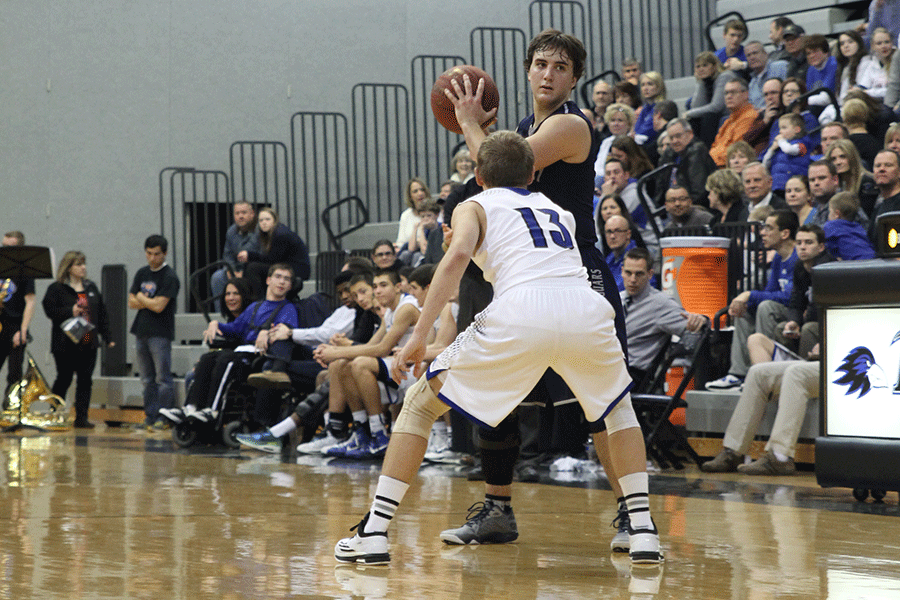 The boys basketball team defeated the Olathe Northwest Ravens 54-47 on Friday, Jan. 30. This victory extends the team's record to 6-7.
Senior shooting guard Mitch Perkins attributed the win to the team's performance at its recent tournament in McPherson, KS.
"Honestly, after the McPherson High School tournament, we had just stepped up our intensity level," Perkins said. "We just came in tonight and tried to stay relaxed, and just do what we've been doing for the past three games, and it worked."
Junior forward Clayton Holmberg said the Jaguars had weak and strong points throughout the game.
"I don't think we really had a bad moment of the game; I thought we played really well the whole game," Holmberg said. "The only thing we lacked is defense in the late parts of the game, but we ended up alright."
The fervent atmosphere of the game will help prepare the Jaguars for upcoming games, according to Perkins.
"It's just an intensity level that we have to get used to playing; it matches that of Basehor [-Linwood] and the faster teams that we play. It was good for us to see that kind of energy on defense," Perkins said. "We love to play in places like this because we have a lot of shooters that like to shut up opponents. That pressure brings us to that intensity level that we need to be at; that we can't generate without that kind of pressure."
The Jaguars will play Bishop Ward on Friday, Feb. 6.
(Visited 33 times, 1 visits today)