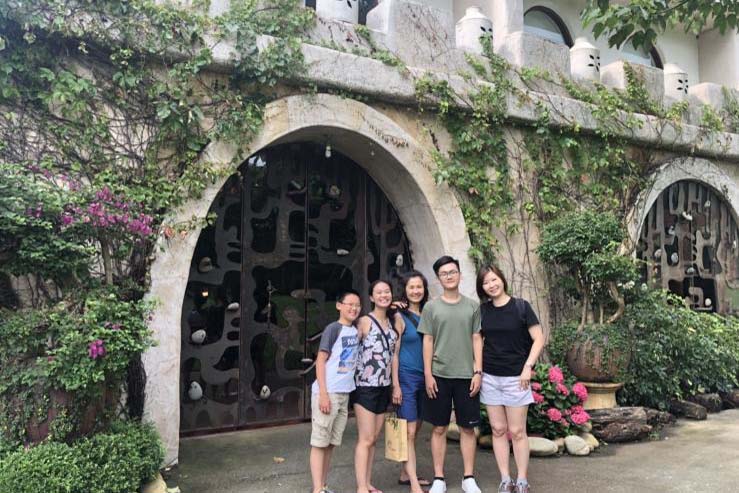 By Sophia Chang // submitted photo
The Changs
Freshman Sophia Chang and her family value authentic food
February 19, 2020
Growing up as a first-generation US citizen has opened freshman Sophia Chang to two different cultures. Her parents had immigrated from Kaohsiung, Taiwan and with them, they brought the Taiwan culture into their through food. 
Inspired by the food in Taiwan, Sophia's father Scott Chang opened the restaurant Blue Koi to serve traditional Taiwanese dishes. 
"It really was a dream of our family to own a business," Scott said. "We grew up loving the food in Taiwan."
Of all restaurant chains dedicated to serving Americanized Chinese food, Chang believes that traditional Asian food is a significant part of her culture.
"I just like eating Asian food; that's like the biggest thing for me," Sophia said.
With food being an important component of her culture, traveling to Taiwan has allowed Sophia to taste on the unique streets foods found only in Taiwan and connect with her extended family.
"We always visit mom's family, and we usually take two weeks to do that," Sophia said. "They take us everywhere to go eat a lot of food. We also take lots of pictures and road trips."
For Scott, being able to take his children to his native hometown of Taiwan is a worthwhile experience. 
"It's kind of like your parents homeland, so it's almost how I feel like you are coming home," Scott said. "People in Taiwan are just so friendly and welcoming."
While Sophia is not able to speak Mandarin well with her family in Taiwan, she is able to comprehend what they are saying by listening.
"Although I can't communicate very fluently with them, I still understand things that they're saying because I'm more of a listener," Sophia said.
While traveling to her parent's home town allows her to connect with her culture, Sophia also has outlets to connect with her Asian culture in the community.
When she was a child, Sophia attended Chinese school where her mom was an instructor and her dad was part of the administration. Even though she no longer attends Chinese school, Sophia feels that the community there provided her meaningful connection with others similar to her.
"I think that the connection, the relationship with other like-minded Chinese is the most valuable," Sophia said.
Despite being able to see an ample number of different ethnicities at school, Sophia believes that the school is accepting of her race.
"I don't feel very anxious about going to school when I don't see a lot of representative ethnicities at school because most people are pretty open-minded about it," Sophia said.
(Visited 1 times, 1 visits today)