The Catty Shack sells Catty Grams for Valentine's Day
Mill Valley students buy new Valentine's Day idea of a Catty Gram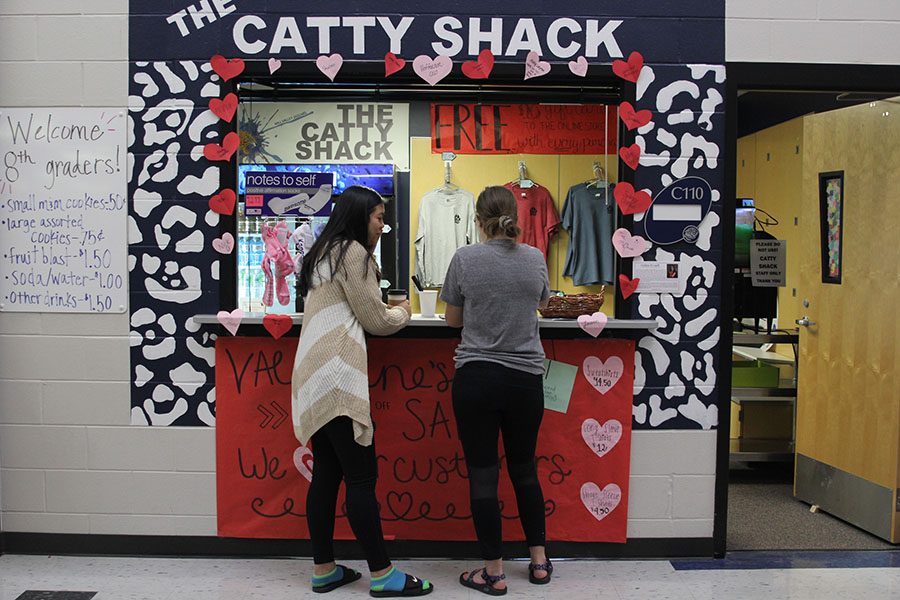 The Catty Shack sold Catty Grams to students, which were delivered to their classmates on Wednesday Feb. 14 during seminar.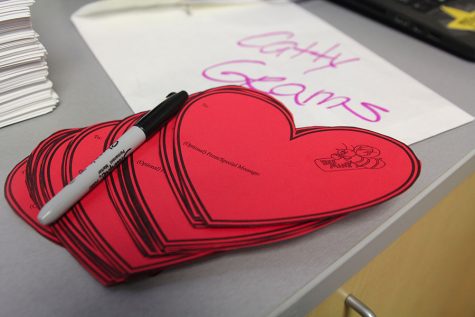 Catty Shack decided to sell Catty Grams for $1 for students to give to their friends or significant others.
"Our promotional specialist, [senior] Shayne Howell, came up with the idea," junior Caroline Rutledge said. "Each month the Catty Shack tries to come up with special promotions and we try to fit them in with a holiday, so this month Shayne and I though Catty Grams would be a great Valentine's Day promotion."
According to member Caroline Rutledge,the point of the Catty Grams are to promote the Catty Shack business and give students a way to get involved.
"Catty Grams give students an opportunity to spread more love and kindness in the community," Rutledge said. "We want our customers to be happy, and it's always nice to know that the Catty Gram makes people smile."
A Catty Gram is a special message attached to a piece of candy that can be anonymous or have a name on it.
"Caroline Rutledge and I make them either during class or in seminar," Howell said. "On each gram, we put on who it's from, the special message, tape on the candy and on the back we have their seminar teacher, or English teacher if they're a part time senior."
The students worked with physics teacher Chad Brown and MVTV to help promote the new idea of Catty Grams.
"Advertising has always been the toughest part because of the short time span," Rutledge said. "However, we hung posters around the school designed by our print specialist [senior] Mia McDonald, and Catty Shack on Wheels also helped get the word out."
For the new idea,  members worked to satisfy their customers.
"We worked really hard to get them to people as soon as possible," Rutledge said. "For this being our first year with the idea, we've had great sales."
Students around the school look forward to getting a Catty Gram or giving them to others.
"I think it's a cool way to make someone's day," sophomore Sidney Vomhof said. "I got a Catty Gram for my friend … because I knew she's been stressed and busy and I wanted to lighten her mood."
(Visited 31 times, 1 visits today)