The Campaign
September 26, 2022
Less than a month after Cooper's passing, the DEA's widespread "One Pill Can Kill" statement captured the attention of the Davis family, sparking a desire to make something good out of Cooper's death and help spread awareness to other families about the
dangers of Fentanyl.
The Davis' mission to spread awareness over their son's death started as a simple round blue bumper sticker that read "Keepin' Clean for Coop". This sticker was originally designed in the hopes that its message would circulate throughout the community.

"We want Cooper's death not to be in vain," Libby said. "Something good has to come out of this tragedy. We can't count that [our campaign] has saved any lives. We believe that more people know about Fentanyl and the dangers of Fentanyl today than they did a year ago, so that just keeps us moving forward. We just want [Cooper's] story to be a cautionary tale."
Cooper's memory grew into a non-profit organization focused on spreading awareness through several social media pages, informational school assemblies and a digital billboard hanging over I-70. Although the organization has a new name, The Cooper Davis Memorial Foundation, it still uses its original slogan to spread awareness.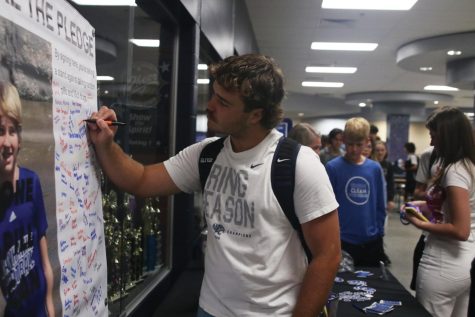 Since the initial send out of the DEA's "one pill can kill" message, the Davis family has held on to that statement in every effort they've taken to spread Cooper's story in hopes that it reaches teens at risk and in need.
"We recently just got a non-profit designation," Libby said. "So we do officially have a nonprofit organization. It's called the Cooper Davis Memorial Foundation. But our logo that we're using is that original bumper sticker called 'Keepin' Clean for Coop.'"
Senior Lauren Aycock, who was a close friend of Cooper's, believes that the Cooper Davis Memorial Foundation has been a successful campaign so far.
"I think [Cooper's] family has done a great job, they do so much," Aycock said. "They're so involved with the school. His parents are such sweet people. I know getting the awareness out really helps them and it's helped a lot of people. I think they're doing a great job with all of the things they're doing just to spread awareness … Even though it's really sad, I think it has been a great thing for people who are struggling and people who didn't know the impact of dealing with drugs. It's been a great learning experience for everyone."
(Visited 1 times, 1 visits today)