Tennis team wins Dual against Saint James
Varsity went 6-3 and JV went 12-6 at home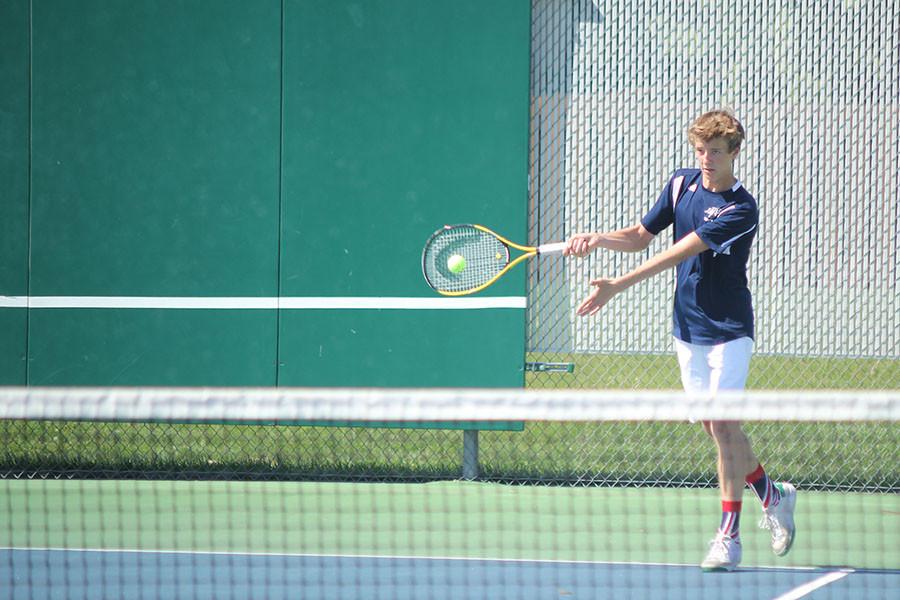 The boys tennis team defeated Saint James Academy at home on Thursday, April 30. The varsity team won 6-3 and JV won 12-6.
The team competed in 27 matches in total. Though the day was long for the team, sophomore Spencer Butterfield was proud of the team for combating tough competition.
"We played pretty well," Butterfield said. "It was a really big dual and the people we played today were much better [compared to past competition]."
Sophomore Daniel Archibong was energized by the continuous competition and won his singles match 6-0.
"The guy had good shots but I just overpowered him in the end," Archibong said. "Even though I played a match before I felt like I had a lot of energy and I just used that energy to overpower him."
Butterfield and sophomore Adam Grube's match started off on the wrong foot when Grube's racket broke. Down by three with a new racket in Grube's hand, the team regained composure needed to make a comeback. The partners won five games in a row for a final score of 6-4.
"Our game was a tough match we were down when [Grube's] racket busts," Butterfield said. "Someone lent him a racket and we won five games straight."
Sophomore Ryan Younger attributed the team's success to their commitment during practice and determination on the court.
"I just want to say that my boys are out there everyday on that tennis grind," Younger said. "We never let up no matter what happens."
(Visited 13 times, 1 visits today)