Technology
Outdated AV equipment will be replaced
June 11, 2018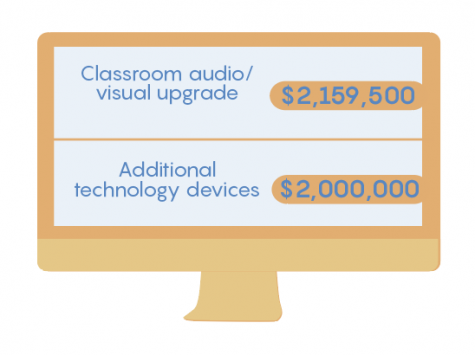 Technology updates are also be included in the bond proposal, such as replacing projectors and audio systems. Problems with the current projectors at school have been prevalent for some students, such as junior Deanna Newman.
"During MVTV, around the weather, our projector just cuts out the livestream," Newman said.  "I've heard people say we should restart the stream and we've tried it, but it doesn't work."
The projector systems can also have problems with audio, according to freshman Alex Whipple.
"We're had [situations] where we're in a class and the teacher's like, 'we're going to watch a video' and there's no sound," Whipple said. "Then the teacher says, 'I'm going to play it from my computer,' and when you're in the back, you can't hear."
In addition to replacing classroom AV equipment, the bond would also free up funds that would be reallocated to purchase new devices for students, such as laptops, benefiting students like Whipple.
"I've noticed when I'll be typing a paper, the computer will just update or shut down on me, and I'll lose what I had on the paper," Whipple said.
Newman ultimately hopes that the replacement of AV equipment will yield better results.
"I'm looking forward to being able to watch an entire episode of MVTV without the live feed cutting out or becoming fuzzy on screen," Newman said.
(Visited 1 times, 1 visits today)