Teachers react to the new learning enviroment
Teachers have been challenged to change their conventional teaching methods after the district opened school in the hybrid model
Amidst all of the challenges that COVID-19 has brought, reopening schools this year has been a first for all. Teachers have been forced to leave behind traditional teaching methods to adapt to new learning environments.
When the district made the final decision to open school on the hybrid model, Gray was initially happy with the idea.
"At first, I was excited for hybrid because I thought it was kind of the best of both worlds: having smaller class sizes and getting to see students," Gray said. "But now that I'm actually living hybrid, I think it was probably the worst decision. I feel like the learning is not really there when you only see your students once a week in person."

Similarly, while he understands that the district is faced with a difficult situation, math teacher Kevin Mosher empathizes with students enduring the challenges of hybrid learning.
"It's terrible for you all to be in the building twice a week; seeing a teacher once a week live is really tough academically," Mosher said. "I get why we're in hybrid, it's better than just being completely remote, but it's really tough on you all."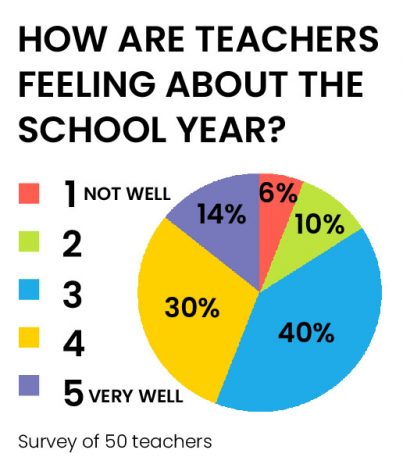 Likewise, art teacher Jodi Ellis has found this year to be a different challenge, especially for figuring out class expectations despite the lack of adequate class time.
"It's certainly not like what my classes have been [in the past]. I'm trying to get my head wrapped around what I should expect because I'm…only seeing a student once a week," Ellis said.
Learning to adjust to the hybrid model has been a learning curve for teachers. Gray finds it difficult to gauge student engagement, especially for her remote classes.
"It's so hard to read them because the voice is not there. I really like the feedback and when you're on mute, it's hard [for students] to unmute themselves to talk; only one or two kids in a class are actually willing to do that," Gray said. "It doesn't really feel like a class because I feel like they're like faces on a screen that I'm hoping will interact with me."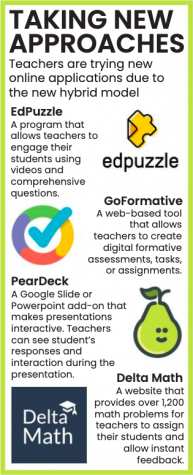 Similarly, science teacher Neil McLeod agrees that there is a lack of understanding how students feel about class content.
"The biggest impediment that I've noticed so far is that I have a much harder time getting an idea of how students are progressing in their mastery of the content," McLeod said. "Instead of having individual and group conversations in class to find weaknesses and shore them up, I have to give worksheets and writing assignments."

Despite the challenges she has faced this year, Gray believes that teachers are doing their best.
"It's definitely the hardest year I've ever taught," Gray said." But we truly love what we're doing, and we're sticking around for you guys and hoping that it just gets better."
Similarly, Ellis believes that the district has provided students and teachers the best option, so everyone should focus on the positives.  
"They made lemonade out of lemons; it was the best that they could do," Ellis said. "I think everyone can kind of lament that this isn't a great situation, but everybody's in this situation, and we're all trying to do the best that we can."
(Visited 364 times, 1 visits today)
About the Writers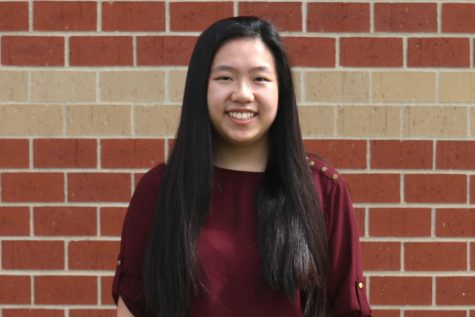 Hannah Chern, JagWire editor-in-chief
This year is senior Hannah Chern's third year as part of the JagWire newspaper staff and second year as one of the editors-in-chief. In addition to leading and working on the JagWire, Hannah serves as an NHS officer and participates in Science Olympiad where she expresses her love for science. Outside of school, Hannah finds herself spending her free time endeavoring the world of crochet, watching YouTube tutorial videos, reading books and discovering...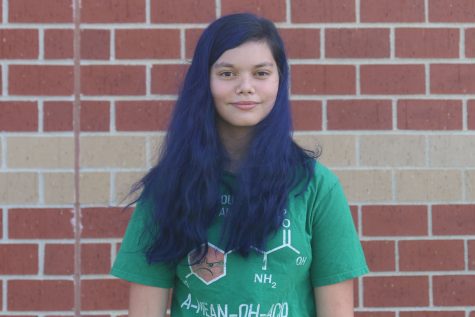 Avery Gathright, JagWire reporter/photographer
This is sophomore Avery Gathright's first year on the JagWire staff where she will be taking on the position of JagWire reporter. Outside of newspaper, she can be found in the Robotics room or at Quiz Bowl meetings. When not at school, Avery can be found listening to music, reading or hanging out with her friends.