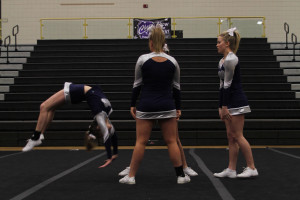 Shelby Rayburn, JAG Editor-in-chief

February 19, 2014
A bus filled with the laughs of cheerleaders as they took a three hour trip to Andover on Saturday, Feb. 15 for the Andover Central Showcase at Andover Central High School. The team brought home a one rating, the highest rating a team or individual can receive.  They also recieved outstanding awards...
Jill Applegate and Sarah Darby, editors-in-chief

September 24, 2011

Filed under BLOGS, LETTERS FROM THE EDITORS
Yesterday, the first issue finally came out. This month has been a struggle trying to balance between teaching everyone the things they need to know to be successful for this year, while having them attempting to apply those skills at the same time. Overall, it has been a very successful issue. Everyone...