Substitute teacher finds school involvement by coaching three sports
Substitute teacher Steve Bock enjoys coaching due to the competitive school atmosphere
Six sophomore boys basketball players run up and down the court at a home basketball game, passing the ball back and forth in an attempt to score a two-pointer. Sophomore boys basketball coach Steve Bock watches the players from the sidelines and calls out suggestions. Bock also coaches girls tennis and boys tennis, meaning he coaches a high school sport all year around.
Bock holds an unusual position at the school. He coaches three school sports, one as a head coach, but doesn't permanently teach at the school. In the fall, he coaches girls tennis, in the winter boys basketball and in the spring is the head coach of boys tennis.
Bock has two sons who have graduated from Mill Valley, one whom he coached. Bock quit his job as a teacher to stay home with them when they were born. He worked part-time at his brother's business, but after five years quit to return to teaching. Bock chose to coach at Mill Valley due to his history and prior knowledge of the school.
"This is a great school; my sons went here and I'm very familiar with it," Bock said. "All the students [and] their spirit here [means] there is desire to be the best. A chance to be a part of that was definitely a great break for me."
Head girls tennis coach Nichole Gurwell, a fifth grade teacher at Clear Creek elementary, believes Bock's position as a substitute teacher gives him a unique position over coaches who have a permanent position.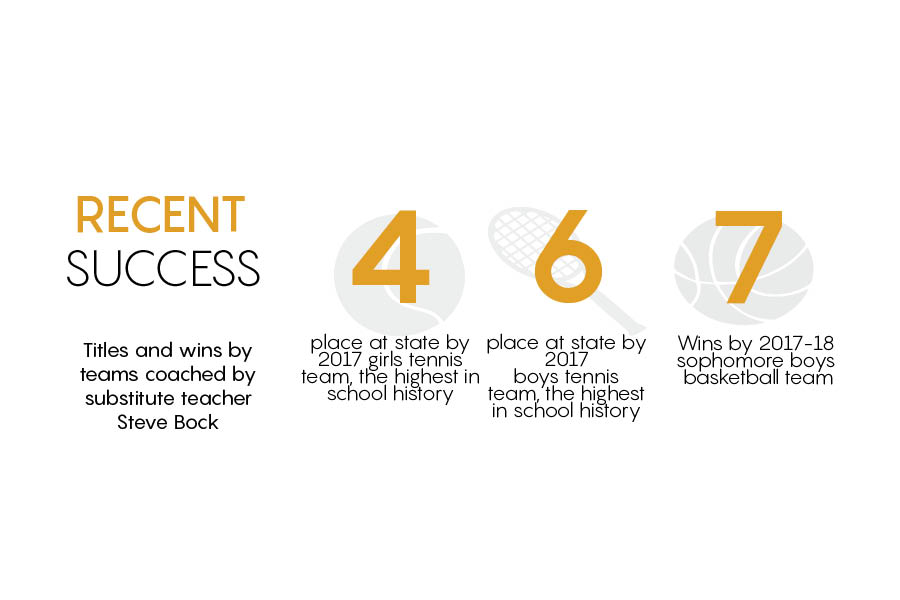 "[Bock's] job gets him in contact with more kids than if he were a regular teacher," Gurwell said. "He knows these students before they become his athletes so there is no question about his expectations."
From a players perspective, sophomore boys basketball player Ben Stove agrees with Gurwell. Stove said Bock is a great coach because of his ability to connect with players as well as helping them with their chosen sport, whether that be tennis or basketball.
"He helps you with the little things like mechanics," Stove said. "He is a great person to talk to, so it's easy to come up and talk to him about anything."
According to Gurwell, one quality Bock has that makes him a great coach is his tendency to care about his athletes, no matter the score.
"While he is certainly competitive, he cares about the whole person more than winning," Gurwell said. "He wants to make sure that his athletes are doing well in school and are good people, as much as he wants to help them improve their athletic skills."
Both of Bock's sons graduated in May of last year, and while Bock will continue to coach basketball and tennis, he believes the experience will change without his son.
"I was driving [Andrew] home from his last tennis lesson, we always stop at Quik Trip, and I realized that that was the last one," Bock said. "I came back and I watched some of my other players that I have and I stopped without [him]. It was different."
Bock is glad that he returned to teaching in the form of substituting, and believes it is the right job for him.
"I started subbing with the idea of looking for something in physical education,"  Bock said. "The lifestyle fits me. I love to see everybody, be everywhere, talk to everybody and it's just a beautiful thing."
(Visited 214 times, 1 visits today)