Students win Washburn University Leadership Challenge Event championship
The team of seniors Lauren Payne, Damara Stevens, Sydney Wootton, Bret Weber and junior Sonny Pentola competed in the two-day challenge event Thursday, March 3 to Friday, March 4. The team came home with the high school division championship.
A team of five students traveled to Washburn University in Topeka, Kansas to compete in the Washburn University Leadership Challenge Event Thursday, March 3 to Friday, March 4. The team beat out 26 other high school teams to win both the Emerging Leader award and the overall high school championship.
The first day of the challenge, Thursday, March 3, consisted of different informational sessions to expand the leadership potential of the challenge participants. Students heard from a variety of speakers about how to make decisions including a variety of groups of people and how to use individual traits to work as a group. Senior Lauren Payne describes what she learned from the speaker sessions.
"We learned about the importance of factions, and including everyone in your community of focus," Payne said. "Then, we learned about utilizing your personal strengths and your team's strengths."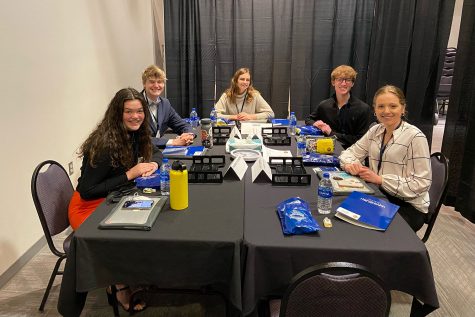 The second day of the challenge, Friday, March 4, students competed in a simulation after being assigned specific roles to work together to solve a problem. Junior Sonny Pentola explains the situation and his role.
"We were given a hypothetical situation about a waste spill and we worked as a team to answer questions, discuss with volunteer actors and to create a presentation for an executive board," Pentola said. "My role was Jupiter, Inc. Consultant. I worked to represent the company."
Each role was given different tasks they had to complete as well as group tasks. Payne shares the tasks she was given.
"My specific role in the simulation was the mayor of Metropolis," Payne said. "I worked to get things out to the community about the things my fellow team members were working on. I would get an email and respond to it."
Expectations were high going into the competition, along with stress levels. Pentola explains his feelings during the simulation.
"During the beginning, I was really stressed and overwhelmed. I was a little worried about how I was performing," Pentola said. "As time went on, I learned how to work with the time constraints and I felt more confident with myself and my team."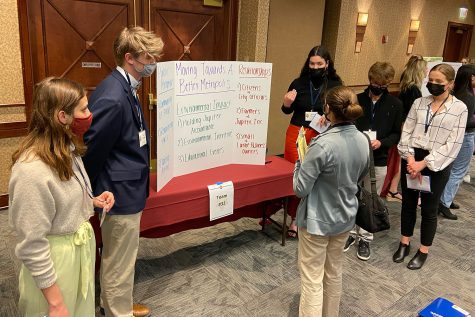 Payne found the simulation to be very beneficial and a great learning experience.
"I learned how much planning goes into leadership roles," Payne said "Specifically, how much a community has to come together to provide a common goal and how leadership really is taking into account all perspectives."
Pentola, along with his team members, were surprised when they won first place.
"I was genuinely surprised when they announced our name and my group members were too," Pentola said. "I was so happy when they announced we won. It was gratifying to see our hard work paid off and put us in first place."
(Visited 164 times, 1 visits today)