Students use social media to spread awareness on topics they're passionate about
Senior Sophie Sena utilizes Instagram to help spread LGBTQ+ awarness
April 18, 2023
Amidst the news of the world, students such as senior Sophie Sena, use social media platforms to spread awareness on topics they feel passionate about. Sena uses Instagram to spread LGBTQ awarness.
"I think that especially recently with all of the transgender bans as well as drag bans I think that it's a really important issue right now," Sena said. "I think that there's a lot of LGBTQ issues that are under attack right now and I think that this is something that we should be talking about."
Before reposting information, Sena does her own research in order to limit the spread of misinformation.
"Normally I make sure before I post something that I see on my feed, I really only follow a few people that I consider to be trustworthy and even though I see them to be trustworthy I always look up the information they're posting about, because I don't want to repost something that's untrue," Sena said. "Then I'll usually post it, especially if I believe that the information is important or that people might want to know about it."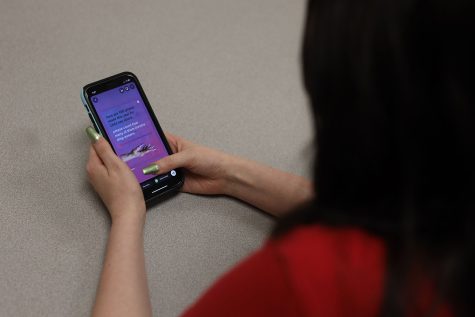 According to Sena, social media has also aided in providing certain facts pertaining to the LGBTQ community that isn't shown in mainstream news. 
"With social media, there's a lot of things that you can find out that maybe the news isn't really covering," Sena said. "I've seen a lot of stuff on social media and I'll look it up and then I'll be able to find more information about it, but you never really see this kind of stuff being shown on television."
Overall, Sena believes that social media has helped normalize being a part of the LGBTQ community. 
"I think that it's definitely helped raise awareness for a lot of the issues, certain things come to light on social media that aren't always talked about in the news," Sena said. "It does a good job in normalizing being in the LGBTQ community and that's really important since I feel that a lot of people struggle to feel secure about themselves and online may be the only place where they feel that they have a community."
(Visited 1 times, 1 visits today)