Students pursue jobs that reflect interests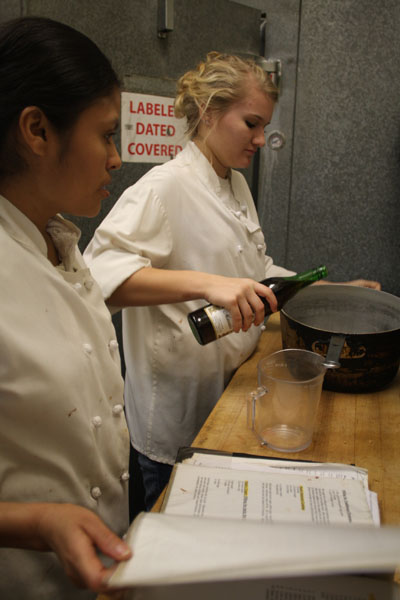 Lauren Shurley, writer
March 22, 2012
Four hours before the restaurant opened, senior Rayanna Gossett worked busily in the back of the crowded kitchen at Paulo and Bill. With guidance from her mentor, Jacqueline Garcia, Gossett created trays full of yogurt parfaits topped with various fruits served at the Sunday morning brunch.
"Baking is a science; if you mix one thing wrong, it will blow up," Gossett said.
Her internship at Paulo and Bill served as preparation for her future endeavors. She planned to get a degree in Baking and Pastry Arts and Food Service Management within the College of Culinary Arts at Johnson & Wales University in Denver, Colo.
"This is tons of experience as far as going into this career," Gossett said.
Gossett hoped to expand her dream of opening a bakery by adding a bar to the establishment, creating a girls' night out atmosphere.
While Gossett's work spearheaded her career path, senior Taylor Whitlow's job working with car graphics personified his interest in cars.
"I see [work with cars] as something I will do on the side, as a hobby," Whitlow said.
Whitlow's interest in car engines began while tinkering in the garage with his grandpa and flourished when Whitlow began his job at Action Signs & Graphics. The company designed custom prints, signs, apparel and vehicle graphics.
With an artistic talent and underlying interest in graphics, Whitlow became co-owner of Twisted Customs, the vehicle graphics branch of Action Signs & Graphics. Whitlow specialized his work in the custom design and application of decals and car graphics.
"The problem with the industry is that so many [customers] call in wanting something, but we'll only get about 15 percent of those jobs," Whitlow said.
Questions of financial stability in the auto technology field worried Whitlow and his family as important college and career decisions approached. Whitlow's plan to pursue an auto technology career, supported by his work experience, concerned his mom who favored a career that would "better support a family."
Whitlow relied on his experience to supply an income in college, although uncertainty of his future career remained.
"The good thing about the business is that I can do it in college, sitting at home on the computer," Whitlow said.
Similarly, Gossett faced financial concerns as her dream required much planning and funding.
"I'll definitely need to find some money along the road," Gossett said.
Although it created an obstacle, Gossett would find a way to pursue a baking career.
"I've always wanted to bake," Gossett said. "Ever since I was little and baked with my mom."
(Visited 15 times, 1 visits today)