Students make STEM more accessible to girls throughout the school
Juniors Courtney Mahugu and Emily Hertel pursue their interest in STEM despite many classes and extracurriculars being male-dominated
Though many STEM classes and extracurriculars have more males than females, junior Courtney Mahugu helped start the Society of Women Engineers while also being a member of the robotics team. 
Women in STEM, and the STEM field in general, were first introduced to Mahugu when she was enrolled in a coding class as a child.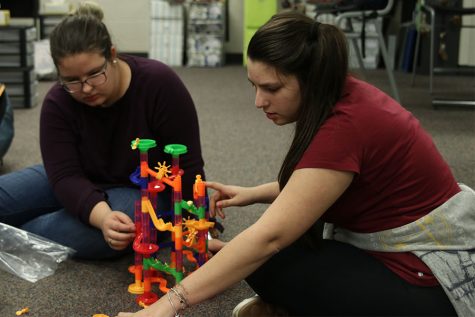 "When I was in eighth grade my mom forced me to take a class called Girls Who Code. I really didn't want to go, but my mom kind of made me," Mahugu said. "That's where I was introduced to female engineers, women who were interested in STEM and even what STEM was to begin with." 
Since then, Mahugu has gotten significantly more involved in STEM, but her introduction to STEM in high school was different from what she had experienced before. 
"At first, I didn't know what it would be like to be a girl in engineering or how big of a minority girls were because I was in a room full of girls learning about engineering," Mahugu said. "When I got to high school and took an engineering class, I realized I was one of three girls in the room."
Junior Emily Hertel, another member of the Society of Women Engineers and robotics team, noticed the disproportionately low number of females during her time on the robotics team. Her sophomore year, there were roughly 30 people on the team and only four girls, and this year the numbers are roughly the same.
"I don't really feel any social divide at all, but it definitely is sad to see how few girls are in clubs like that," Hertel said. "Especially since I know a lot of girls are really good at math and science and stuff like that."
Mahugu feels that being one of the few females in STEM puts pressure on her to meet a certain standard. 
"The only thing that's affected by being a girl [in STEM] is my higher need to do it perfectly," Mahugu said. "I think I put that standard on myself because when I'm the only girl in the class I feel like there's something I need to prove."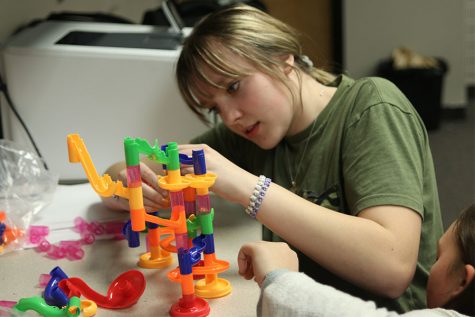 After recognizing how male-dominated engineering and technology classes and extracurriculars were, Mahugu and engineering teacher Gayle Kebodeaux talked about creating the Society of Women Engineers, a club focused on introducing girls to engineering. 
"We started talking about ways to encourage more girls to get into STEM. Especially since a lot of [girls] don't know or have a strong understanding of what being in STEM or engineering is like," Mahugu said. "Kebodeaux told me the idea of [Society of Women Engineers], and I was like we should do it so that more girls can at least know what engineering is like."
For Hertel, Society of Women Engineers has been a way to reach out to younger girls about what engineering is like. 
"I think it helps that [Society of Women Engineers] does a lot of outreach toward the middle schools because then automatically [girls] will sign up for these types of classes," Hertel said. "It also helps to get the word out that there are a good amount of women that are interested in engineering and that anyone has the capability to do that stuff."
"
I think it's important for both boys and girls to pursue whatever they want and have the knowledge given to them of their options."
— junior Emily Hertel
Outside of a high school environment, Mahugu thinks having female involvement in the STEM field is important. 
"I think it is really important so we can have a female perspective in the STEM field," Mahugu said. "When there's a problem you get to hear what people with different lives and different perspectives, especially different genders, feel about the problem and how it can be solved. Having women discuss those problems in the engineering field can help us grow." 
According to Hertel, both boys and girls should be able to pursue whatever career path they choose. 
"I think girls should go into the STEM field because previously they didn't think it was an option for them, and I think it's important that boys don't feel pressured to go into those technology fields. I think it goes both ways, and they should be able to know their options and do what they want," Hertel said. "I think it's important for both boys and girls to pursue whatever they want and have the knowledge given to them of their options." 
(Visited 469 times, 1 visits today)