Students in French IV and French NHS tutor younger students
Sixth through eighth graders learned basic French knowledge at Monticello Trails Middle School Monday, Nov. 4
Members of French NHS and students enrolled in French IV volunteered to tutor Monticello Trails middle schoolers Monday, Nov. 4.
According to junior Morgan Prosser, French NHS wanted to advertise the French classes available at Mill Valley.
"We wanted to take part in a community event by spreading the word about the French program at Mill Valley to future students," Prosser said.
Senior Daniella Phale's favorite part of the day was interacting with the middle schoolers.
"Seeing the smiles of the sixth through eighth graders when we taught them all kinds of things was a great feeling," Phale said. "[My favorite part was] watching the kids leave with so much information and creating so many new friends."
Despite the difficulties of teaching younger students, Prosser loved explaining the French language.
"I loved showing the students another fun language option other than Spanish and teaching them fun French words," Prosser said. "They had a hard time with pronunciation and had lots of energy."
Junior Abigail Peters participated for two reasons.
"I went to support the French program and to go back to [MTMS] for a bit," Peters said. "[My favorite part was] teaching a lesson that my group and I had prepared on colors and animals.
Phale believes there are a lot of different benefits to speaking French.
"[Speaking French] looks really great on resumes," Phale said. "It also tunes the mind to be more open to activities you might find yourself involved in now or later in life."
(Visited 128 times, 1 visits today)
About the Writer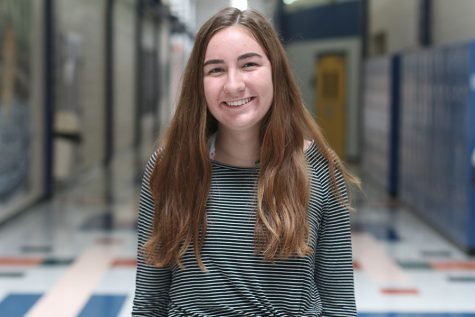 Grace McLeod, JAG copy editor
This is junior Grace McLeod's second year on the journalism staff. She is a copy editor and writer for the JAG yearbook. Grace is also involved with debate, forensics, swim and SLT at school. Outside of school, she loves to spend time with her friends and go camping or shopping.