Students host Valentines-themed special prom
Students enjoy dancing and crafts at prom at the De Soto Access Center on Friday, Feb. 10
Students gleamed with excitement in special education teacher Shannon Long's classroom on Thursday, Feb. 9 as she went over the itinerary for a day most of them had looked forward to for a while: the prom.
The prom took place at The Bridge in De Soto, Kansas on Friday, Feb. 10. Prior to the event, Long helped establish a prom committee, headed by juniors Brooke Davis and Dakota Wilson, which took on the responsibility of organizing and planning the event.
"I just handed it off to them and they did an amazing job pulling this together for our students," Long said.
Helping with the prom as part of the Peers in Learning program became a rewarding experience for Davis.
"I like getting the experience of being there for anyone who needs my help," Davis said. "[Peers in Learning] teaches you that everyone has their own special ability, no matter what the case is. Everyone has their own way about things and there are different ways to help each student."
The prom allowed Long to provide her students with a comfortable environment to enjoy themselves.
"The purpose of the prom is to allow our special population of students to access that type of activity in a way that is inclusive of their same age peers and other schools," Long said. "A typical prom might be too intimidating or not be as structured as they might need to be successful."
For senior Esther Nichols, the prom proved to be a socially enjoyable experience.
"I like hanging out with my friends," Nichols said. "It is fun and just awesome."
Activities at the prom included skeeball, trashketball, a photo booth, bowling and even a skit performed primarily by the students. However, the dance floor remained one of the most memorable aspects of the prom for Davis.
"My favorite part about the prom was seeing everyone dance," Davis said. "They did a 'Footloose' dance that they choreographed and [senior] Jake Campbell crushed it. He was the best dancer out there."
By participating in such activities, Long believed that the Peers in Learning students played an important role in helping educate the special education students.
"It is really important for students in our special population to interact with their same age peers," Long said. "The relationships and the modeling of behavior that they see with their Peers in Learning is something that we can not teach in a classroom. It has to happen naturally."
(Visited 59 times, 1 visits today)
About the Contributor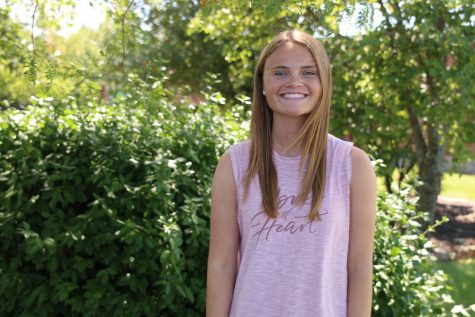 Sydney Parker, JAG copy/managing editor
This is senior Sydney Parker's third year on the JAG yearbook staff. This year she is both copy and managing editor. Sydney is also involved in ambassadors, NHS, Spanish NHS, band and softball. Her hobbies include watching old movies and spending time with her dog.