Students give blood to save lives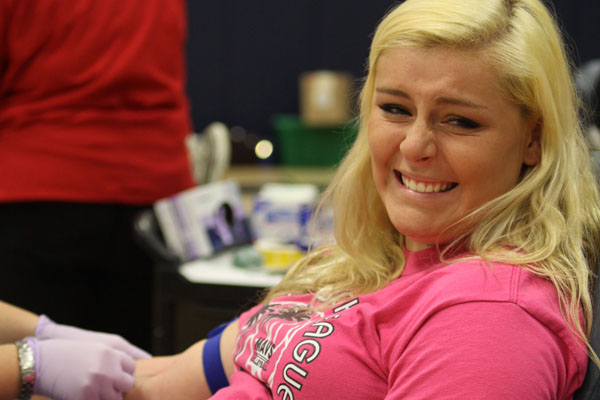 Laughter and nervous whispers coming from the snack table filled the auxiliary gym on Wednesday, Oct. 26 as students and staff waited to donate blood at the StuCo-sponsored blood drive. Over 130 people made their way to the auxiliary gym throughout the day, in hopes of giving blood.
Each donor saved two lives with the blood they gave, which is why most chose to donate.
"I had not given blood before and I wanted to contribute to the cause," junior Susan Dietrich said. "My mom gives blood every year and I wanted to help too."
Other students also had positive feelings about donating blood.
"I feel like if I can help a person and make their day by giving them blood they need, it makes me feel good about myself," senior Laura Blaine said.
Seven teachers did their part this year by taking part in the blood drive alongside their students. One teacher had a slightly different story behind his donation reasoning.
"Ihave given three times before and I pretty much know that I am going to need it at some point so why not give it to someone else who needs it," math teacher Alex Houlton said. "It's just a lot of people helping people."
According to StuCo, each student that participated gave a pint of blood for a school total of 81 units of blood and the drive's donation saved up to 243 lives, 240 of those lives saved lived in the Kansas City area. While the benefits of donating blood could have been positive, giving it did have some medical down sides.
"It made me nervous. I was sitting next to [senior] Gabby Boyd and she passed out," Blaine said. "But I was also sitting around my friends which made me more relaxed."
This gratifying feeling was one shared by many who gave blood.
"I felt happy," junior Marisol Guerrero said. "Everyone should feel happy after helping people.
(Visited 8 times, 1 visits today)
About the Writer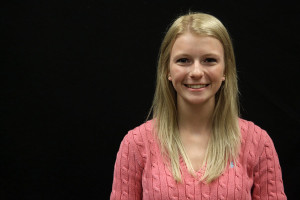 Shelby Rayburn, JAG editor-in-chief
Senior Shelby Rayburn is an editor-in-chief on the JAG Yearbook staff. This is her third year on staff and first year as an editor-in-chief. Rayburn is involved in NHS. In her free time, Rayburn likes to hang out with her friends and play with her dogs. Her favorite quote is by Audrey Hepburn "For beautiful eyes, look for the good in others; for beautiful lips, speak only words of kindness; and for poise, walk with the knowledge that you are never alone."