Students face a variety of options when planning for the future
How to decide your path, how to get where you want to go and how to pay for it all
April 23, 2019
In elementary school, your teachers constantly drilled into you that they were preparing you for middle school. In middle school, they often repeated the mantra "this is how they do things in high school." Now, in high school, you're faced with preparation for post-graduation, and one thing is very clear: one size does not fit all.
Perhaps your friends are excited to meet new people at their out-of-state college, or maybe you know someone contemplating trade school options. How do you choose which path to take to your future? Once you decide what you want to do, how do you get there?
(Visited 82 times, 1 visits today)
The Initial Path
When choosing your future path, consider your strengths and the best long-term options
Every fall, the counselors have one-on-one meetings with the senior class as well as send out newsletters to them and their parents in order to answer these questions.
Counselor and AP coordinator Erin Hayes believes that the large number of students each counselor is responsible for can be an obstacle, but all students can get the resources they need.
"There are definitely students who come in and talk because they don't know what they want to do, and that's not a quick conversation, but we tell them what classes they could be taking here to see if that's something they'd be interested later because we have a lot of offerings," Hayes said. "I help answer questions, find contact information and get you in touch with the experts. Sometimes, it's things I don't know, but it's always something we're willing to help find out."
According to Hayes, for students attending college after high school, there are many factors to consider like cost, college experience, majors offered, job opportunities and in-state versus out-of-state.
Senior Liz Fraka began touring colleges as early as September of sophomore year in order to begin working toward her long-term goal early. For Fraka, cost, familiarity and opportunities for her intended major, Architecture, sparked an interest in studying at the University of Kansas.
"I can't decide between math and science versus creativity stuff. Architecture is an interdisciplinary degree, so I can do both. It was the way to pick without having to pick," Fraka said. "You could go to an out-of-state school and pay way more, or you could stay in-state and not have to pay for travel. I grew up with KU, I've always liked KU and I have friends at KU."
Conversely, senior Seth Hobson will be attending college out-of-state in order to study computer science; he is currently deciding between the University of Chicago, Northwestern University or Swarthmore College.
"I wanted to go somewhere out-of-state because I wanted to go out and experience something different," Hobson said. "Also, I was trying to get the best education in the areas I wanted to go into."
According to David Gonzalez-Dysinger, a CollegePoint coach who provides college advising to students across the country, a student's intended major is as important to the college experience as location.
"Don't focus too much on how practical a major is or how much money you think you can earn with it," Gonzalez-Dysinger said via email. "Focus on what you are interested in and would be happy studying in depth for several years."
College may not be the only viable option for students though. According to Degree Query, 30 percent of students only attend a four-year college because they believe it's the natural progression after high school, and 23 percent only go because it's expected of them. Additionally, data from Burning Glass Technologies states 43 percent of college graduates are underemployed, meaning they are in jobs that don't require a college degree.
For financial as well as personal reasons, senior Ben Coulson will be attending trade school.
"While everyone else still has three more years left of school and will be coming out with student loans and debt, I'll already have been working for two-to-three more years," Coulson said. "You miss out on going to a university with your friends, but it's worth it because I'm starting my life faster and this is always what I've wanted to do."
Similarly, junior Cahill Eckhardt plans to work in the trade field as a construction worker or plumber.
"I just kind of always knew I worked better with my hands than using fancy math and stuff. Plus, I don't want to have a desk job," Eckhardt said. "It's just better for me that way."
However, Eckhardt recommends enlisting in the military as an option if you are unsure of what path to take after graduation.
"I would say if [you] don't know what you want to do after school, not even including trade school, to join the military because they'll give you a job with what you're good at, even if you don't think you're good at it," Eckhardt said. "You'll have a career in the military if you choose to, or after four years, you can get out and start your own business or join a company because military personnel who have training normally get hired faster than those who weren't in the military at all."
Enlisting is senior Kaleb Shukeat's plan, post-graduation. Shukeat plans to join the Marine Reserve and then attend the University of Kansas as a political science major on the law pathway.
"I got some inspiration from both my father and my own personal interests. My father was in the marines and my grandfather was also in the navy, so it's kind of in the family. Also, growing up, I always wanted to serve our country," Shukeat said. "I've also noticed that from a young age I was really good at arguing and debate. I've been a part of policy debate here at Mill Valley for four years. I also went to boys state last year as a junior and I was able to be a judge there and an attorney there and it really helped push me toward what I wanted to do in law."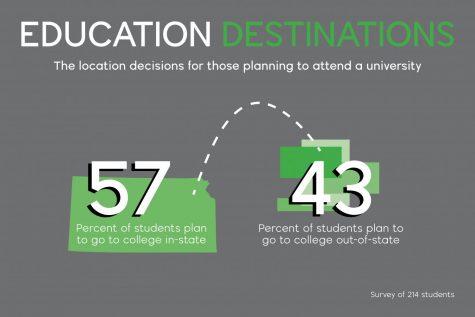 Despite his clear plans for life after graduation, Shukeat faced indecision during his underclassman years.
"Coming into high school I had this huge ideology that I was going to be going to West Point, I was going to be this huge great sensation of the world. Reality hit me pretty fast," Shukeat said. "While it'd be awesome to have gotten into West Point and have succeeded that far in my life in being the best new thing, you have to be realistic sometimes and I realized that was way past what I was capable of."
Hayes believes more students should consider other options, besides attending a college or university, post-graduation.
"We're trying to be helpful to everyone. There are so many other things people can do besides go to a four-year university," Hayes said. "I think something that should be a goal for our department is to find more information for students who are looking at a trade school or the military; we try to get them the resources they need."
(Visited 1 times, 1 visits today)
Forging Your Path
Preparation and actively working toward goals is vital to getting where you want to be
Now that you know what path you want to take after graduation, how do you fulfill your goals? According to Hayes, the first step is talking to your counselor.
"I hope that a student knows that they can come down and see their counselor if they are stressing about anything at any time," Hayes said. "It's hard for us to know who to reach out to when we don't get the opportunity to see you guys every day. We rely a lot on you guys coming to us."
While more colleges are moving toward being test-optional, meaning they don't require a test scores for admissions, data from College Transitions suggests they have become more important in recent years; 82 percent of colleges still state that test scores are important in their admissions decisions and 55 percent classify them as "very important."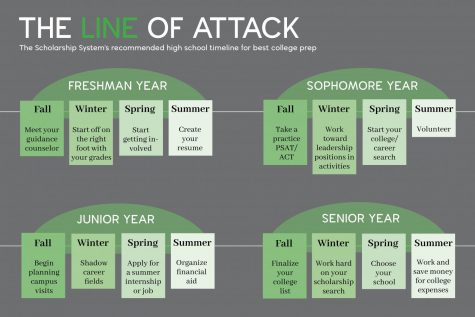 Gonzalez-Dysinger believes it's important to utilize test scores in order to select a range of schools, and then research them.
"Check what the average standardized test scores and GPA are at the colleges you are interested in. Then, pick some schools where you are slightly below average …  some schools where you are above average, and focus your list primarily on schools where you fall within the average," Gonzalez-Dysinger said via email. "Make sure that every school on your list, even the safeties, is somewhere you would enjoy attending for four years."
Classes like Career and Life Planning and ACT Prep can help students prepare for college application requirements. According to ACT Prep teacher Peter Shull, while he teaches students how to utilize their knowledge, the results are ultimately up to them.
"I think that the class has a good shot of helping students improve by two to four points realistically," Shull said. "I think a lot of it has to do with student motivation and how hard students are willing to work."
Taking a wide-range of classes can help students become a well-rounded applicant. Though White plans to pursue engineering, the diversity of classes at the school have helped him as a scholar.
"It has nothing to do with engineering, but [AP European History] has been really helpful," White said. "Not only because of [social studies teacher Chris] McAfee, but because of all of the discussions we get to have and being able to socialize, learn to adapt good study habits and manage a harder workload."
Though Hobson agrees taking a variety of classes is beneficial, he cautions against only taking classes for a better transcript.
"I feel like class schedules should differ by person. Don't overdo it on classes you feel like you don't really need but you feel like you need for colleges or something," Hobson said. "Do what you really want to do and what you think will help you moving forward."
While Landon Butler, a 2018 graduate who has given multiple presentations about college to the voyagers, considered himself sufficiently prepared for the rigor of college, he found the application process the most stressful aspect of his high school career.
"The process of filling out and submitting applications was probably the most stressful period of my life thus far," Butler said. "I struggled with trying to translate my personality and accomplishments into a couple pages of paper."
Hobson recommends starting the admissions process far in advance; for him, the extra time allowed for studying for the SAT subject tests and applying for scholarships.
"My advice for underclassmen is starting the application essays earlier than you think you need to," Hobson said. "For me, it was a huge benefit when a few of my classmates were writing their essays around the time they were due and I had started that process halfway through junior year. By that time, everything was settled and it wasn't stressful getting everything in on time."
Additionally, according to Gonzalez-Dysinger, "what you do outside of the classroom is just as important for your future career as what you major in." Junior Cainen Hissong will be working for the general manager at a Dodge dealership this upcoming summer.
"I'm going to work at a Dodge dealership as well as going to Johnson County Community College to get my prerequisites [done], and then I'm thinking about going to [the University of Kansas] to get a marketing degree," Hissong said. "I want to do marketing because I'll be selling cars, and hopefully becoming a [general manager] of the dealership one day, so it goes hand-in-hand."
For students not attending college, hands-on opportunities are equally as important. Coulson will gain work experience this summer in preparation for trade school in the Fall.
"Post-graduation, I'm doing a welding internship over the summer," Coulson said. "I'm doing this as opposed to going to college because the demand for trades is going way up."
Eckhardt will be gaining experience this summer to see if he enjoys the path he will be going down.
"This summer, I'm interning with [Crosby Plumbing], so that's going to help me work out if that's what I want to do or not," Eckhardt said. "[My advice is to] look into internships and apprenticeships because you're getting paid to learn and you'll be making money right out the gate."
(Visited 1 times, 1 visits today)
Down to the Dollar
Finances are an important factor in planning for the future
Finally, you've picked what you want to do and you've made a plan for how to get there, but another vital part of planning for the future is cost.
Trade schools are often cheaper than an education at a university, which is makes that career path appealing to Coulson.
"Tuition is only $17,000 for nine months, so it's an affordable option," Coulson said. "I think there are just as many scholarships for trade school [as there is for college], and there are a ton of grants you can apply for from the government because there's a huge push for the trade school route."
For that reason, Hayes has seen an increase in the number of students entering college as opposed to a trade school or the military.
"I've definitely seen a trend of students over the years of students being a lot more conscious of the cost and the debt they're going to have to take," Hayes said. "A lot more students are talking about doing a trade and getting involved that way and with the military too."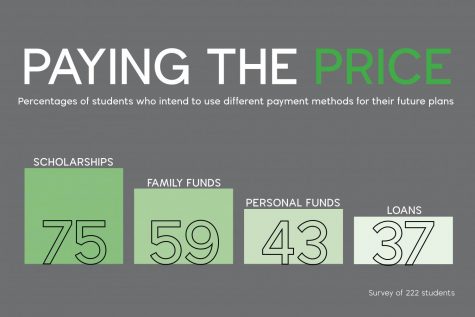 For students planning to attend college, however, the cost is exponentially higher and often have long-term effects. According to the National Center for Education Statistics, for the 2015-16 academic year, the average cost of public institutions was $16,757, the cost at private nonprofit institutions was $43,065 and the price of private for-profit institutions was $23,776; these averages are expected to continue rising.
Due to the cost differences, Hayes recommends considering cost as the number one factor when determining what schools to apply to.
"Ask yourself 'what experience am I going to gain?' Is it really going to matter paying more for the same degree, and to some people it does, but for others it's not worth it," Hayes said. "Different schools are known for different programs and some are more elite than other."
While loans can be an effective investment in education and the future, they should be used sparingly. According to Degree Query, the share of students leaving school with more than $50,000 of federal student debt has grown by 8.5 times since 1992.
Science teacher Chad Brown, who has paid off all loans excluding one active from the University of Missouri Kansas City, stresses the importance of paying as early and efficiently as possible.
"If I were to give advice, I would say, don't take out extra money just to spend, take out what you need and start paying as soon as possible," Brown said. "There is a certain amount of time where you can pay without any interest and you should take advantage of that. It's a great way to pay early, and you'll end up getting out of debt faster."
The school offers 19 AP or dual credit courses. According to Hayes, the average three-credit cost is $900. At Johnson County Community College, the average three-credit cost is approximately $279. Finally, AP exams cost $94, but students must score high enough to receive credits.
Hayes believes that the most helpful aspect from AP and dual enrollment classes are the reduced-price credit hours.
"It is cost savings — getting out of the way some of those entry level classes and not having to sit through them as a college freshman," Hayes said. "[Get] those basics out of the way, so you can you jump right into those things that you are interested in."
Fraka utilized these courses as well as online courses to minimize her college expenses. She will be entering her freshman year of college with 41 credit hours to help her ease the workload.
"A lot of colleges, speaking from my experiences as a KU student, have a sample degree pathway, so you can look at those [general education requirements] and knock out those specifically," Fraka said. "If you're trying to save money, the best scholarship is to just get in and out as fast as possible. So, if you can knock your four-year degree down to three, you're really saving yourself a lot of cash."
Additionally, Fraka believes students can decrease living costs to save money.
"I am going to live in a scholarship hall at KU, which means you're paying a lower rate because you're willing to do chores around the house," Fraka said. "That is saving me quite a bit of money instead of living in a regular residence hall."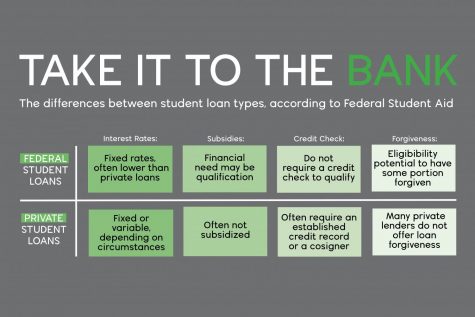 Butler also stresses the cost of applying itself, regardless of whether or not you attend, as that can limit your options too. Because of his own experiences with the financial toll of college, Butler wants to "make [students] aware of the immense financial liability college is, and wanted to prepare them to make an informed decision about how to find out-of-state schools that are financially feasible."
"I was unprepared for the cost associated with each college application, including the fees for sending all the various standardized tests, the CSS Profile and the applications themselves," Butler said. "The high cost forced me to decide between bearing the cost in favor of applying to more schools or saving my money and just applying to the schools I was without a doubt interested in."
Hobson has also utilized AP courses, but places a heavy emphasis on strategically applying for scholarships.
"Apply for a lot of scholarships, because it'll go a long way. There are some really great books, like Anthony O'Neal has a great book on avoiding debt," Hobson said. "Apply for different scholarships all the time and it's not the huge thousands-of-dollars scholarships that are gonna pay for it, but the little ones you can get easily. They go really far."
(Visited 1 times, 1 visits today)