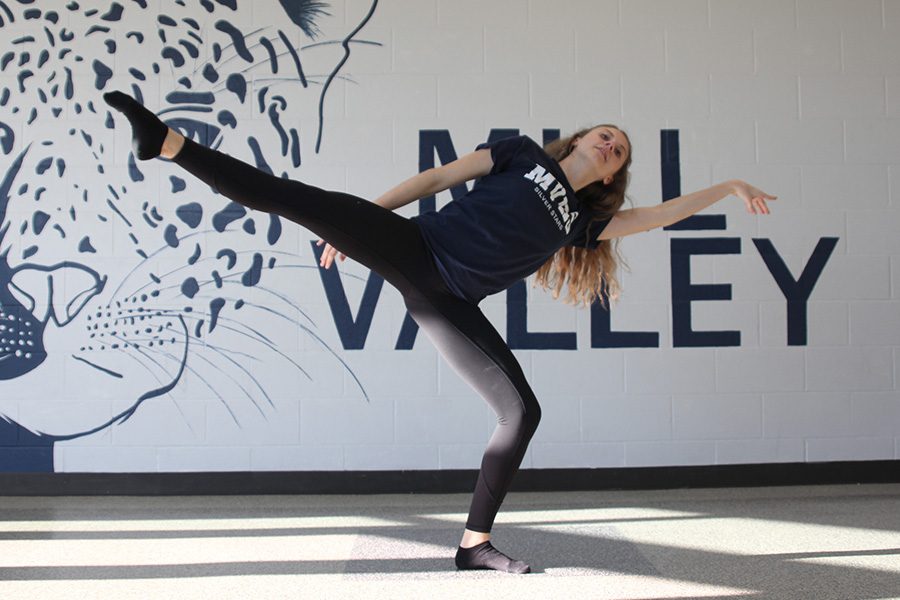 By Molly Smith
Students express themselves through the art of dance
Freshman Ella Lorfing, senior Olivia Augustine and junior Sydney Ebner use their skill to let their voices be heard
Whether it's leaping across a gym floor at a pep assembly or spinning on a stage at a club competition, students use dance to express themselves, both on club teams and on the school's Silver Stars Dance Team.
According to freshman Ella Lorfing, dancers use their talents to express themselves in their own unique way, without literally using their voices.
"There [is] a story we are telling through the movements that we are doing, and through the songs and your facials [too]," Lorfing said.
Senior Olivia Augustine, who has been dancing for 13 years, enjoys her sport because she can immerse herself in movement.
"I like dancing because it is a cool feeling," Augustine said, "You don't really have to think about anything else other than what you are doing with your body."
However, it's not just practicing that is exciting for junior Sydney Ebner. Though she has been dancing for 14 years, the impact that performing has on people is still rewarding.
"[Performing] is really liberating. [Being] on stage, you get a feeling of vulnerability because you are doing movement that is really personal," Ebner said. "It is also really cool because you get to inspire people through your movement."
For Lorfing, dancing is a unique feeling and can be used to express emotion.
"I like to dance because the way it feels," Lorfing said. "[I like] the movement quality and I can express myself that way."
After hours upon hours of practicing dance, Augustine believes she is a changed person.
"I dance normally six days a week, sometimes five, so it is just kind of a part of my life," Augustine said. "I wouldn't be the same person if I didn't dance."
(Visited 53 times, 1 visits today)