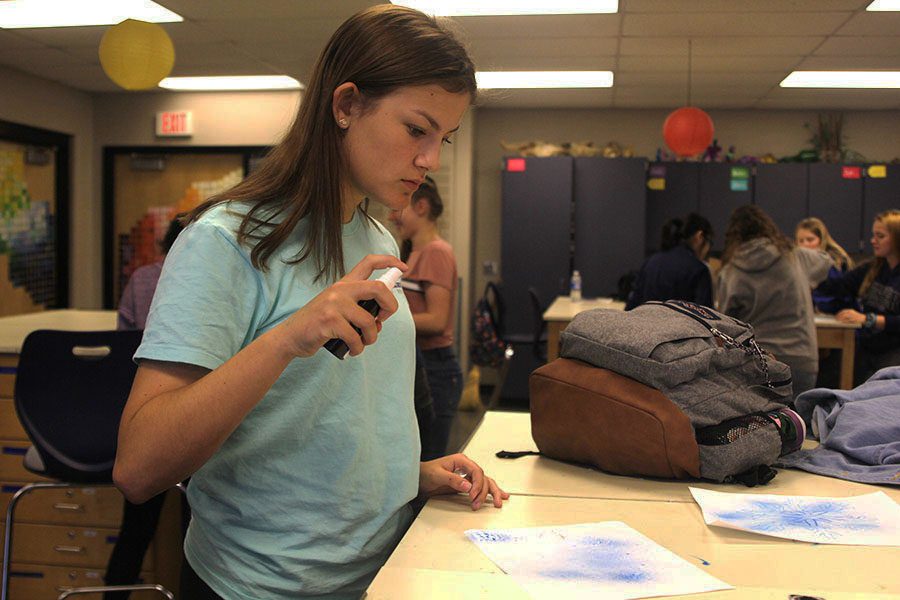 By Avery Liby
Students express themselves through art
In various art classes and NAHS students portray their feelings
Spraying her paper at the NAHS meeting on Thursday, Nov. 8, junior Analiese Wilhauk conveys her emotion through her piece. Like Wilhauk, many other students and teachers choose to express themselves visually.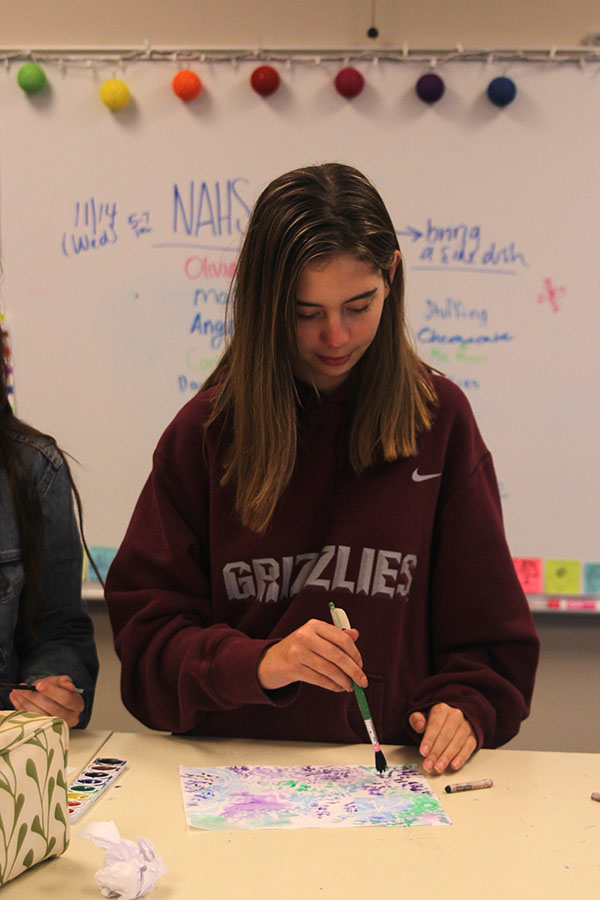 According to NAHS sponsor Krystal Strong, art is a medium for conveying thoughts and emotions.
"I've always said that art is a way of visually communicating. So, instead of communicating with words, you're communicating with imagery. That's just what artists do," Strong said. "Artists are visual people and that's how they think about the world and express themselves."
To channel her emotions, Wilhauk produces artwork that shows her specific feelings.
"I use art to express my voice a lot of the time emotionally. Say I feel like angered or frustrated, I will put that energy and that emotion into my pieces and that will voice how I'm feeling," Wilhauk said. "Sometimes, I'll get so bottled up or even so jittery and want to create something. My only outlet sometimes is art for me to express that anger, frustration or happiness even."
Sophomore Claire Burke believes expressing your voice through art is a uniquely enjoyable experience.
"Everyone's art is different. It all depends on the person and it's not something you typically see in media," Burke said. "It's a really fun way to get how you feel out into the world. Sometimes, it can be really difficult, but the process of making it is just the best."
In her classroom, Strong lets her students use their imaginations when creating artwork to better help them express their voice.
"I think the best way that I've found [to inspire students] is to give students more of an open ended prompt and have them respond in whatever way," Strong said. "In my Drawing I class, we do weekly altered book assignments. I just give them a prompt and then they respond visually to that prompt. [I'm]not saying everyone has to do a certain thing, but giving them some opportunity to express their own voice and respond in different ways."
Because of arts distinctness, Wilhauk chooses to express her voice visually rather than other forms of expression.
"It's a unique way because nothing is ever the same. Even if you do the same piece again something is always going to be different," Wilhauk said. "The process is really exciting and also the outcome of what you create is so fun to see."
(Visited 23 times, 1 visits today)