Students create dubstep music
Hang on for a minute...we're trying to find some more stories you might like.
For juniors Brian Schath, Matthew Kavanaugh and Greg Darnell, electronic music isn't just for listening to. These three students work individually and together to make dubstep music, a genre that Schath defines as a "series of electronic sounds like synthesizers and drum beats arranged in ways that sound good together."
The three started creating their own songs due to their love of the genre.
"One of my friends showed me in freshman year 'Ripple VIP' by Liquid Stranger and I was just hooked on it immediately," Schath said. "I listened to a lot of it and I have a nice computer so I thought, 'Hey, I can do this.' It was hard at first but then I got used to it."
After Schath started working on his own songs, he shared his hobby with his friends.
"[Schath] showed me a song and I immediately fell in love with it," Darnell said. "I thought, I have to hear more of this and find out how to make it."
To create their songs, they use computer programs Ableton and Frooty Loops Studio. The programs allow them to insert beats and tracks, or make their own, combining them into a song.
"Everyone thinks it's easy [to make] but it's very complex," Schath said. "I play guitar and if I have [a tune] in my head and want to figure it out I can just play it. But with [dubstep] you can't really do that. It takes you on a ride."
Darnell also enjoys the differences between making dubstep and other types of music.
"[My favorite part is] the creativity aspect," Darnell said. "You're never wrong, really, it's all up to you. You shouldn't worry whether or not people will like it or not, just do what you want. That's my favorite part, there's no set guidelines."
Kavanaugh finds the best part of making dubstep to be creating something he loves.
"Overall it's really fun because that's something that me as a fan of music can enjoy," Kavanaugh said. "I've been into music since I was little, and me and [Darnell] and [Schath] are all big fans of music."
Darnell and Kavanaugh share their love of music by working on songs together.
"You have to start from scratch when you write a song, so [Darnell and I] would split parts of the song. He would write a part and I would write a beat and we would put it together," Kavanaugh said.
In addition to working with Darnell on dubstep songs, Kavanaugh also DJs with Schath. While they are still amateur DJs, they have an offer to DJ at a birthday party at a convention center coming up soon.
"We get a folder of a whole bunch of songs that we think will look good together and we will mix the songs," Kavanaugh said. "We don't really manipulate the songs, we just lead it up and switch into a different song."
While Schath said that making dubstep and DJing are only just hobbies for him right now and that he doesn't plan on making it a career, it is clear that he will continue to love the music in the future.
"[Dubstep] is new," Schath said. "Back in the '70s, they had rock and roll and parents were like, 'What is this devil's music?' Now we have dubstep and it's the same situation. It's a new wave of music for this generation."
Samples of juniors Greg Darnell, Matthew Kavanaugh and Brian Schath's dubstep music can be found below. All of their music can be found here.

(Visited 2 times, 1 visits today)
About the Writer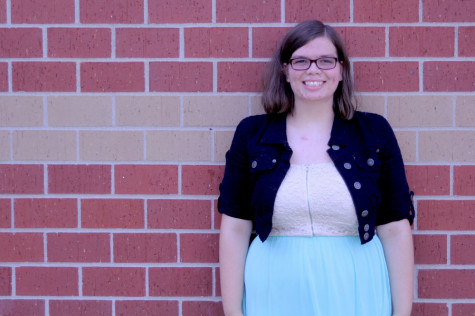 Katherine White, JagWire editor-in-chief
This is Katherine's third year on staff, and she is excited to work on the newspaper with a great staff this year. She is also involved in band, quiz bowl and literary magazine. When she is not in the journalism room or practicing an instrument, she is probably daydreaming about being in Disney World.