Students compete in the third Statistics Olympics
The event, designed to integrate learning and fun, was held Tuesday Jan. 14 and Wednesday, Jan. 15
Math classes often hold the reputation of using a bunch of data that students don't particularly care about. While that may be true for many, math teacher Sarah-Margaret Heffernon's class challenged that notion with the Statistics Olympics Tuesday, Jan. 14 and Wednesday, Jan. 15. The event, which is held every year in Heffernon's class, allows students to create a Minute to Win It style game and collect data about their classmates' performances in those events.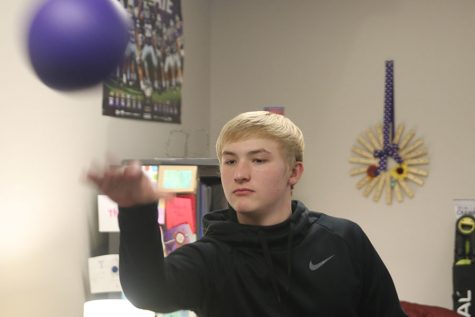 For Heffernon, the Statistics Olympics is a great way to get her students to care about the numbers they are working with. 
"The Statistics Olympics is designed for the students to have a fun way to collect data that they're interested in," Heffernon said. "Instead of me just giving them a random list of numbers day after day … it's an activity for them to be invested in their learning and have fun while getting data."
Freshman Dylan Reynolds was excited to combine his love of basketball with the statistics in Heffernon's class. 
"We made a basketball game … [so] that kids that aren't as familiar with basketball can really enjoy the fun of basketball while also doing math," Reynolds said.
While the games are designed to be a fun break, freshman Cassie Fries feels it is important to balance difficulty and fun when designing a game. 
"There's a lot of people who probably don't realize what goes into all the data such as deciding how hard [the games] will be," Fries said.
For Heffernon, the games help students subconsciously connect with the math and better learn the concepts. 
"It's a break, and they don't realize that they're doing math," Hefferon said. "They gain the practice of performing different stats through the five number summary and standard deviation."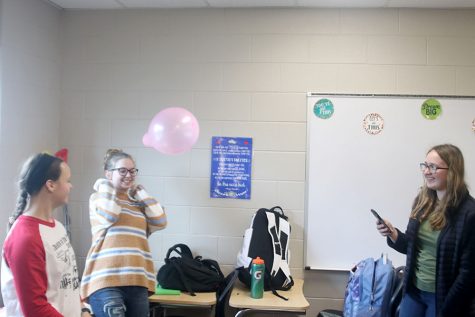 Freshman Brody Shulda was surprised by the difficulty that his Marshmallow game presented. 
"We decided to make the catapult because it sounded like a fun idea," Shulda said.  "I didn't know the statistics would be so low and that aiming it is actually fairly hard."
With this being Heffernon's third year with the Statistics Olympics, she was happy to see the students' passion for the activity and to see in-class concepts spill over into the games.
"I have never had a group show up the day of the Olympics unprepared," Heffernon said. "You can see them compete for that high score, or you'll hear them say 'I'm your outlier,' because they know those math vocab words, and they know how to calculate it."
For freshmen Kate Hereth and the other members of Heffernon's math class, the statistics gathered from the Statistics Olympics are just the beginning. 
"When all the games have been completed, we will make a poster with a bunch of statistics to explain the data that we received," Hereth said. "Once we have all the data and the day is over then we will start using it in class."
(Visited 181 times, 1 visits today)