Students compete in regional solo and ensemble competition
7 instrument soloists and ensembles and 15 vocal soloists and ensembles will go to state on Saturday, April 29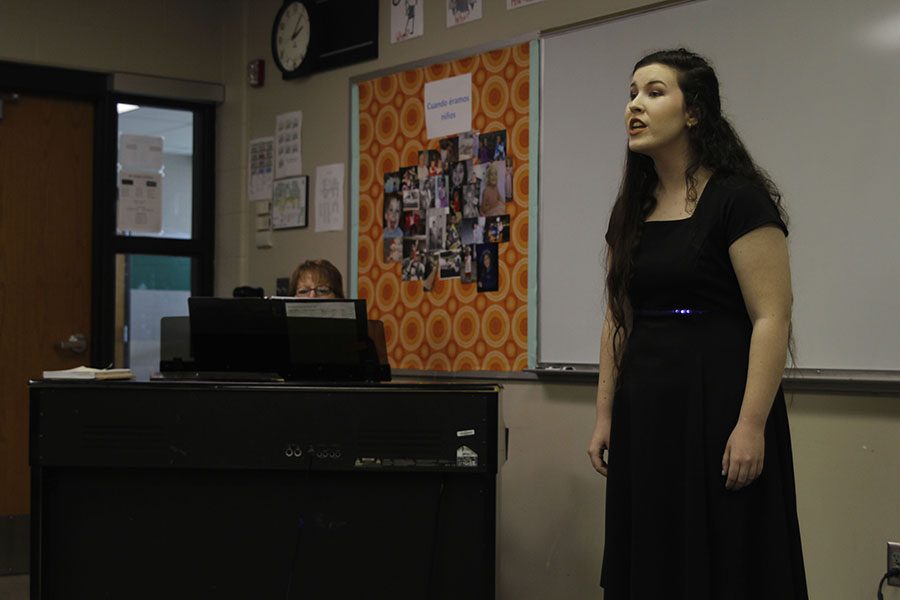 Tricia Drumm, Mill Valley News editor-in-chief
April 11, 2017
Choir and band students traveled to De Soto High School on Saturday, April 8 to compete in the regional solo and ensemble competition. From Mill Valley, five instrument soloists, two instrument ensembles, 11 vocal soloists and four vocal ensembles qualified for state.
To prepare vocal soloists for the competition, choir director Stephanie Mooneyhan helped them pick two contrasting pieces. After, the soloists independently worked to memorize and eventually practice their pieces with an accompanist. For the vocal ensembles, Mooneyhan worked with Jag Singers during its respective block and with Women's Ensemble before school on Tuesdays and Thursdays for at least two months.
"All four vocal ensembles that went worked so hard preparing," Mooneyhan said. "The last week they really came together and put the finishing touches on everything and were really polished and focused in rehearsals and for their performances."
Similar to the vocalists and ensembles, the instrumentalists didn't spend any time in class working on the pieces. Competitors had opportunities to work before school, during seminar and after school with band director Deb Steiner.
"They did a really good job," Steiner said. "I think they played at their best, and that's all you can ask for. I hope that they had fun while they were doing it, too."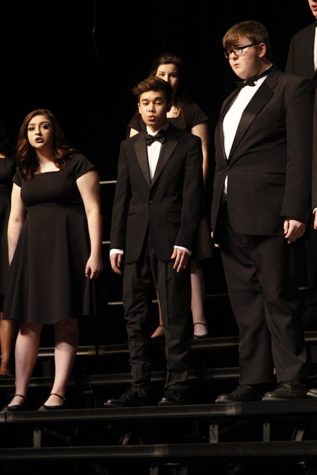 Mooneyhan came into her first year of directing at a Kansas solo and ensemble regional competition excited, but found a challenge in going into the competition without prior knowledge.
"When you look at all the scores [the judges] gave, a lot of them were really tough," Mooneyhan said. "Even though we are here with other schools, it's different than sports. We're not competing like 'they won' or 'we won.' It's like 'they're going to state, but so are we.'"
While this was senior Lesa Tilden's first time singing in a Kansas regional solo and ensemble, she had prior experience with the same competitions in Texas.
"It's a lot more competition-based here," Tilden said. "I thought I had to get really well prepared for it and understand all my music. I think it was a better experience here."
In her second year competing, senior Lauren Tracht played the flute and performed in a trio with junior Madeline Myrick and sophomore Jordyn Allen. In preparation, the trio practiced almost every day before school. After the competition, she felt she and her trio performed well and expected a higher score.
"I didn't make it to state this year, which is sad, but I felt more confident this year," Tracht said. "The second time around is easier."
Tilden will be going to state with the Women's Ensemble and believes there is room for improvement with the performances.
"[The Women's Ensemble] overall attitude as a choir could be improved," Tilden said. "We can improve on memory, definitely, and just go over the top with all of our emotions and dynamics and everything. Personally, I would say I need to get more [emotionally] in tune with the music."
For Steiner, one of the best moments in the competition was watching the instrumentalists "coming out [of the competition] feeling like they've accomplished something."
"The hard part about playing music is that there's never perfect," Steiner said. "It's that endless pursuit of perfection, and it's really hard to get to that point. … It's never a disappointment, but it's always hard to just be perfect."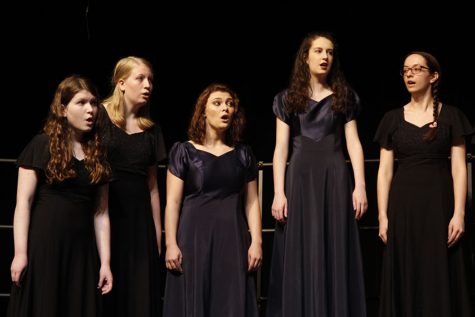 Another challenge Mooneyhan faced in the competition was "running around and trying to hear everyone [she could] and be encouraging to everyone." Steiner ran into the same problem last year, but was pleased to be able to listen to more groups this year.
Nonetheless, Mooneyhan's favorite part of the competition was seeing the competitors realize their full potential.
"They're proud of themselves, and that makes me proud of them because they realize that they were capable of doing it," Mooneyhan said. "It's really nerve-wracking and can be kind of scary a lot of times. Seeing their faces when they face their fear when they did it and feel good about themselves. That's really rewarding."
Both choir and band state qualifiers will be competing in State Solo and Ensemble on Saturday, April 29 at Emporia High School.
Choir state qualifiers:
Senior Kara Mason
Senior Kelsey Poje
Senior Quinn Sheehan
Junior Gracie Eckardt
Junior McKenna Harvey
Junior Lauryn Hurley
Junior Natasha Roh
Junior Simon Stewart
Sophomore Lindsey Edwards
Freshman Anna Paden
Freshman Meghan Sherman
Jag Singers
Jag Singers Women
Jag Singers Men
Women's ensemble
Band state qualifiers:
Senior Adam Gillette on trumpet
Senior Vicki Robinson on clarinet
Senior Kristen Schau on euphonium
Sophomore Tyler Jeanneret on bassoon
Sophomore Sarah Gawith on flute
Seniors Aaron Middaugh, Dawson Cantwell, Adam Gillette and junior Jayden Moore in trumpet quartet
Senior Jayna Smith, junior Madeline Myrick and sophomore Sarah Gawith in flute trio
(Visited 46 times, 1 visits today)
About the Contributor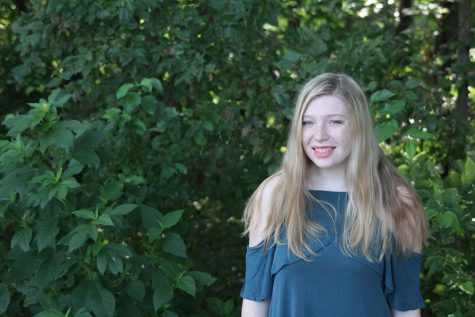 Tricia Drumm, Mill Valley News editor-in-chief
Senior Tricia Drumm is undertaking her third and final year on the JagWire staff and will be one of the three magnificent Mill Valley News editors-in-chief. When she isn't in the journalism room, she's singing alto in Jag Chorale. In her free time, Tricia loves to read, write, prance around in her heels, hang out with her dogs and friends, obsess over "Criminal Minds" and sleep — a lot.