Students are tasked with creating a presentation for Archeology and Artifacts
Final presentations in the Archeology and Artifacts class are shared Tuesday, Oct. 12 and Thursday, Oct. 14
Over the course of the past few weeks, students from Mill Valley high school have been researching a topic of their choosing for the class archaeology and artifacts taught by Keil Hileman. The students were tasked with creating an in depth presentation, a model that encaptured their topic, and writing an essay explaining their research.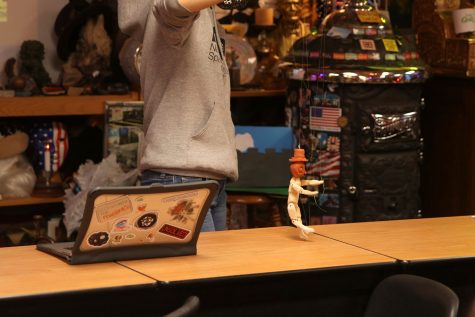 The presentations ranged from the history of puppets to the afterlife, and the students went all out in being sure their efforts were shown.
"I'm a big fan of the concept of things that mean other things, such as puppets mean manipulation in stories," junior Sydney Downey said. "The purpose of my project was to get interested in something, educate, and [add] comedy."
The students were able to choose something they were passionate about or an interest they had, which sparked a lot of creativity.
"I've been interested in dinosaurs for a while, and I thought a dinosaur egg would be a fun, easy model to make," senior Ryan Pasley said."Turned out that making the egg was the hardest thing. It took three days to make. First I had to blow up a balloon, then I made a starch paste, dipped newspaper into it, and pasted it to the balloon. Then, I waited a day, added a second layer, and then waited another day and painted the egg white and green. It was a process."
Though it was a challenge, students feel that their work paid off, and that they would even do it again.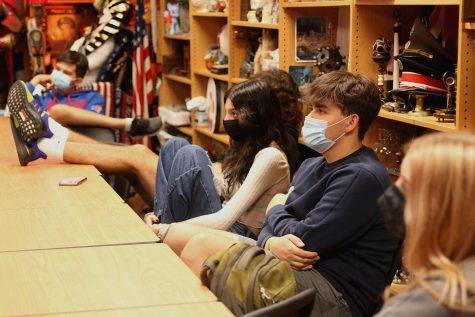 "I listen to a lot of history podcasts, and they mention stuff about puppets," Downey said. "This is something I've been interested in for a while. Marionettes have always been really cool to me because they're very complicated, and very simplistic at the same time. I would do something like this again for sure, maybe even go into more detail."
Overall, the projects were successful and a good creative outlet for the students to express their interests.
(Visited 498 times, 1 visits today)