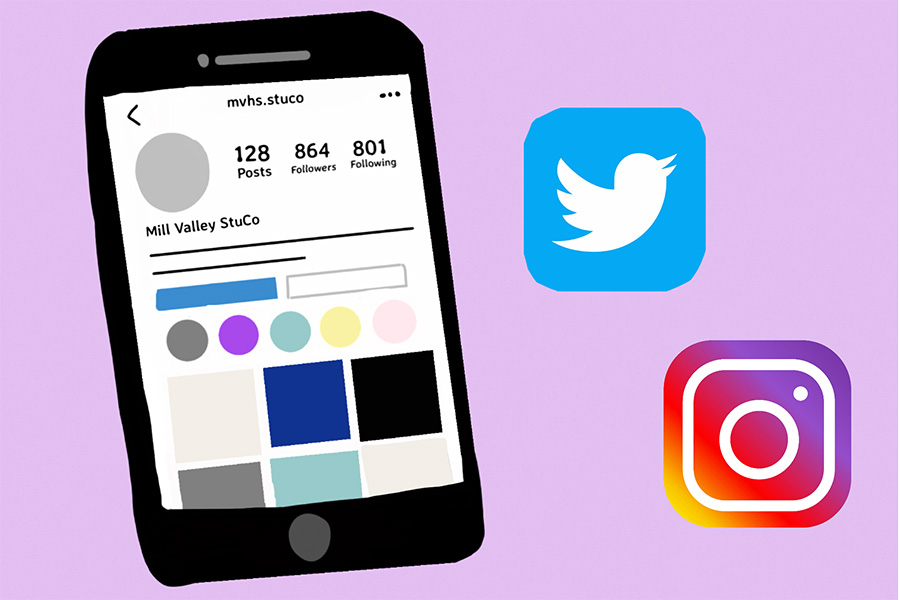 Students and clubs employ social media to bond during social distancing
Social media apps like Instagram, Snapchat and TikTok foster student and club activities
April 18, 2020
Social media, which was already prominent in the lives of many students before the COVID-19 outbreak, has become a staple of student interaction without the opportunity to spend time together in person. Apps like Instagram, TikTok and Snapchat and their social features have allowed both individual students and clubs like JLC and StuCo to create unique group activities.
For junior Katherine Weigel, social media is a source of both news and entertainment during social distancing. 
"[Social media] lets my friends and  I still laugh during these uncertain times and they keep us up to date on the latest things," Weigel said. "On TikTok, you can also duet dances with friends, and it is kind of like you are there dancing with them."
Senior Ashley Grega uses social media mostly to laugh with her friends and remember sentimental moments. 
""I send [my friends] funny videos or memes on Instagram or Snapchat," Grega said. "I like to post on my finsta with old videos or photos of us and tag them to say I miss them."
Grega, who is a member of JLC, says that the club has been working with StuCo to develop ways to keep students in touch via social media during the absence of at-school activities. 
"StuCo created a group to help spread positivity during quarantine and asked to expand it to members of JLC. I'm a part of JLC and I wanted to join, so I did," Grega said. "We have had a few Zoom meetings to think of ideas on live streams or spirit weeks or playing bingo that we can all post on our [Instagram] stories to keep everyone connected by showing pictures."
Senior student body president Annie Bogart was instrumental to developing StuCo's first social media spirit week. In an earlier interview, Bogart explained why she believes using social media to bring the student body together is so important. 
"Other organizations, student leaders and myself have an obligation to the student body," Bogart said. "We will not let the year end without closure and will do everything in our power to promote spirit."
StuCo's social media spirit week activities have included live guitar with physics teacher Chad Brown and meditation sessions with English teacher Coral Brignoni via Instagram Live. 
According to senior Avery Altman, seeing students and teachers use social media to stay connected is comforting and develops community.
"Giving teachers a platform to reach their students, like with Breathing with Brig, is important," Altman said. "Seeing everyone participating in the activities we plan out is a sense of comfort and connection even when we all feel so isolated."
(Visited 1 times, 1 visits today)