Student ran social media pages promote clubs and activities
Jaguar Leadership Corps has been able to use both Instagram and TikTok to inform the student body in a positive way
April 18, 2023
Not only are students the only ones using social media for good, but many clubs use social media to create a positive light surrounding their organization. One club doing this is JLC. Senior social media manager Amiaya Manirad has seen how JLC's usage of social media has impacted the student body. 
"We try to raise awareness for the groups of people who aren't recognized as much as other groups, which I think is one of the most important things that we do," Manirad said. "It's definitely been positive and everyone in JLC is setting a good example." 
JLC sponsor and counselor Erin Hayes has been able to see the positive effects of social media both through JLC's actions and students she interacts with.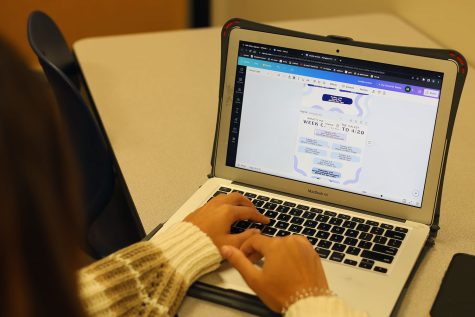 "I have students who also just do the funny stuff. Like cat memes, cute dogs or even the feel good stuff," Hayes said. "I think that that's important too, just being able to follow some good news. I think more kids are doing that since it's uplifting and silly." 
According to Manirad, JLC has also been able to inform the student body in addition to promoting other clubs throughout the school by using their various social media platforms.  
"We like to appreciate all of the things going on in the school. We talk about sports, activities, achievements in the school and different ranges of things happening," Manirad said. "It allows us to teach people about things they may not know about." 
Overall, Hayes has appreciated being able to see the positive side of social media.
"It's been interesting to see and watch students use social media for good stuff. It's not anything I would have thought of since I don't usually partake in social media, but it has been fun to follow and see," Hayes said. "I've been able to learn a lot about social media through students and it's made me see that it's not all bad."  
(Visited 1 times, 1 visits today)