Student goes through a benign tumor removal
Sophomore Lilly Lutz recently had surgery on her knee to remove a non-life threatening tumor
As she looks in the mirror, sophomore Lilly Lutz acknowledges a permanent scar on her knee from a tumor removal earlier this year.
Lutz was experiencing knee pain when she would exercise and began to become concerned that there might be something more wrong. She went to the doctor and was told she had a benign tumor. This type of tumor is not life threatening if removed quickly, compared to a cancerous tumor.
Lutz was scared about what the doctor was going to say about the tumor because she thought it would affect her swimming.
"I was nervous because I found out about the tumor on the day I also found out that I had made league for swim, "Lutz said. "I thought the doctor was going to tell me I couldn't swim."
Lutz was excited as well as worried about her knee surgery.
"I was happy because I was going to be healthy again," Lutz said. "I was nervous because I had never had surgery before and I didn't know what to expect."
After surgery, Lutz had a long road of recovery ahead of her.
"I was basically learning how to walk all over again," Lutz said. "I wasn't allowed to walk for almost four days."
Lutz will always have a constant reminder of the tumor in many ways like discomfort and a permanent mark on her knee.
"My knee does hurt from time to time," Lutz said. "I have a 3 inch scar that people constantly keep asking me about."
(Visited 31 times, 1 visits today)
About the Writer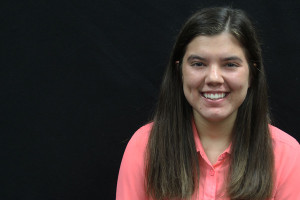 Erika Kringen, JagWire briefs editor
Sophomore Erika Kringen is a first year JagWire staff member. Kringen has been involved in many sports and activities since starting high school. She has ran track, cross country and plans to join the swim team in the spring. Erika Kringen is  in the musical , student ambassadors,and is a freshmen mentor this year. Kringen is looking forward to writing many stories and meeting new people while being a member of the JagWire staff.