StuCo shows appreciation for staff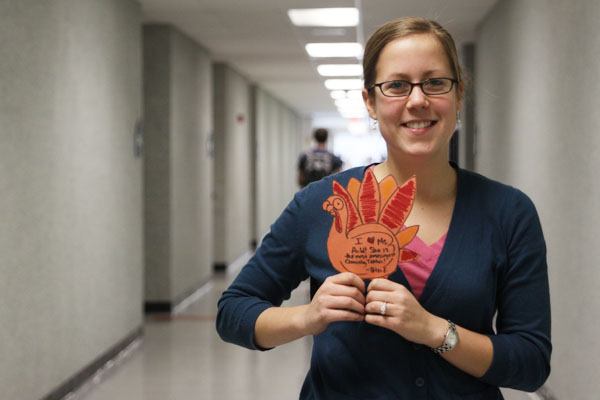 Katie Linsey, reporter
December 1, 2011
Over 200 paper turkeys were posted around the school last week for a contest to show appreciation towards teachers and staff. The event, held by StuCo, took place Monday, Nov. 21 thru Monday, Nov. 28. The goal of the contest was to get the highest number of points by finding paper turkeys that were posted around the school. The yellow turkeys were worth 10 points, the blue turkeys were worth five points and the green turkeys were worth one point.
The winner of the contest was science teacher Alyssa Auld, who won a $30 gift card to a location of her choice.
English teacher Lindsey Prewitt, social studies teacher Dustin Stinnett and office secretary Lynn Bath were chosen out of a hat as the consolation winners of a $10 gift card to a location of their choice.
Assistant StuCo sponsor Jessica DeWild thinks the competition went well.
"Most of the teacher really got into it. We had teachers 'turkey hunting' during their plans and having kids scour for them during passing periods," DeWild said. "I think it was a fun event to show our appreciation for all the teachers and staff at Mill Valley do throughout the year."
(Visited 7 times, 1 visits today)